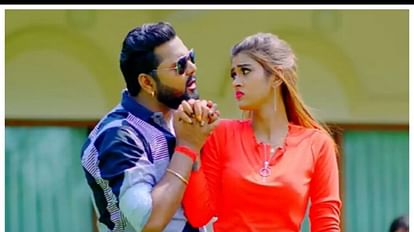 Samar Singh with Akanksha Dubey
– Photo: Social Media
Expansion
A new twist has come in the death case of Bhojpuri film actress Akanksha Dubey. In the case, the police of Sarnath police station have registered a case against Bhojpuri singer Samar Singh and his brother Sanjay Singh under sections including abetment to suicide. Police has taken this action on the complaint of Akanksha's mother who reached Varanasi from Mumbai.
Akanksha's mother Madhu said that my daughter was very courageous. She cannot commit suicide. He appealed to the police-administration for justice. Akanksha Dubey's mother and brother reached the police station on Monday morning. Father Chhote Lal Dubey is still in the train. Madhu told that she had talked to Akanksha on mobile at seven in the evening on Saturday. She was happy then. No problem mentioned. When I called at 12 in the night, he did not pick up the phone. Didn't even tell about going to any party.
Samar Singh used to beat Akanksha often
It was alleged that Bhojpuri singer Samar Singh, a resident of Azamgarh, used to torture Akanksha a lot. Said that Samar Singh wanted Akanksha to work only with him and not with anyone else. Did not give money for working together. He used to beat up for working in someone else's film or song. Many times when Akanksha asked him for his money, he also assaulted him.
read this also: Akanksha Dubey lived in a live-in relationship in Varanasi, call details will reveal the secret of suicide