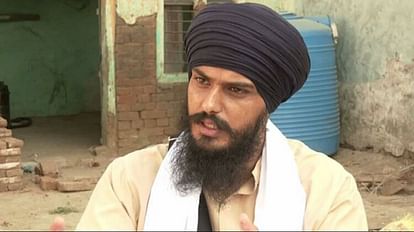 Amritpal singh
Photo: ANI
Expansion
Another close aide of Khalistan supporter Amritpal Singh has been arrested by Punjab Police from Indore Madhya Pradesh. The accused has been identified as Sukhpreet Singh, a resident of Mardi Kalan village in Majitha. He was arrested in connection with the attack on Ajnala police station. The police gave several dates to the court to get the remand of the accused.
After a long debate, the court has sent the accused on remand till 29th. Whereas from Jammu Amritpal Singh's guide Pappalpreet Singh's close couple Amrik Singh and Paramjit Kaur resident RSpura have been detained and handed over to the Punjab Police. Apart from this, the search operation of Punjab Police is going on continuously. On the other hand, ten accused who were on remand in the case of attack on Ajnala police station have been sent to judicial custody by the court.
Ajnala police produced Sukhpreet Singh in the court under tight security on Saturday. During this, for taking remand of the accused in the court, it was argued by the police that he is close to Amritpal Singh. He lived with her like a shadow. We are pretty sure that he has all the information about his vehicles from funding to weapons. At the same time, the police said that if it is interrogated deeply, many more secrets can be revealed. However, the counsel appearing for Sukhpreet Singh opposed this.
He said that remand was taken from the accused arrested earlier on this basis. However, after hearing all the arguments, the court sent the accused on remand till March 29. The FIR of the attack on Ajnala police station has been submitted to the court. While 10 other associates of Amritpal Singh, who were arrested on production warrant in the same case, have been sent to judicial custody by the Ajnala court on Saturday. On February 23, the police had registered a case against several people, including Amritpal Singh, for attacking the Ajnala police station.