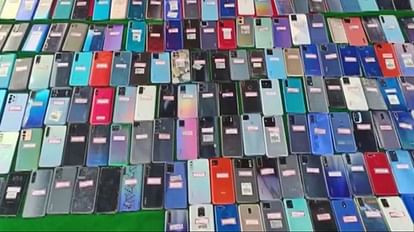 Mobile phone recovered by Anantapur police.
Photo: ANI
Expansion
Police officials in Andhra Pradesh's Anantapur district on Tuesday claimed to have recovered over five thousand mobile phones worth Rs 8.25 crore with the help of a chatbot service launched in June 2022.
SP Dr Fakirappa Caginelli said that it was a great pleasure to hand over lost cellphones to the people of 15 other states and 18 districts of our state. The SP said that for this he had given a WhatsApp number and the service was started on March 17 to help people who had lost their phones without visiting police stations or registering FIRs.
Officials said the chatbot service was launched on June 26 to provide more convenient services to the people. "Free Door Delivery" program was started in collaboration with a professional courier company for people from other states or districts outside Anantapur. He said that after starting the chat bot service, 5,077 mobile phones worth Rs 8.25 crore have been recovered within a short span of time. Anantapur District Police ranks first in Andhra Pradesh in mobile phone seizures.
District SP on Tuesday handed over their lost mobile phones to 700 people while the rest of the mobile phones have already been distributed by the district police. Andhra Pradesh Director General of Police (DGP) KV Rajendranath Reddy congratulated the technical department of the district police for their hard work in recovering the mobile phones of the victims on a large scale.

SP Fakirappa on Tuesday launched a program called "Free Door Delivery" in association with a professional courier company. Through this program, lost mobile phones will be given free of cost to the affected people of other states and districts. The SP said that keeping in view the cost of transporting the phones from other states or districts, this step has been taken to send the phones directly to the homes of the victims with the help of professional courier companies.