The twist in the story of Maya's entry in Star Plus' superhit serial 'Anupamaa' is being liked by the viewers. With the arrival of Maya, discord has not only started in Anupama's house but troubles have started in the Shah family as well. Chhavi Pandey, who is playing the character of Maya in the serial, may not be heard by anyone in the Kapadia family, but outside the serial, she has made a dent in the Kapadia family. Yes, recently a video of Chhavi Pandey is going viral on social media in which she is seen with Dimple living in Anuj Kapadia's house with Anupama.
Read also: TMKOC makers did not give money to Shailesh Lodha? This blunt answer of the project head came on the allegations
After this video of Nishi Saxena and Chhavi Pandey playing the role of Dimple in the serial surfaced, fans are saying that Maya has made a plan to create a divide in Anupama's house. The video has been shared by Chhavi Pandey from his official Instagram account, sharing which Chhavi Pandey has written in the caption, 'Fun after packup.' In the video, Chhavi Pandey and Nishi Saxena are dancing a lot in fun. Fans are liking the video of both, one user commented, 'Maya Tum dance with Dimple only to provoke him.' Supporting Maya, another user wrote, 'Chhoti Anu, Maya must get it.. I like Maya.'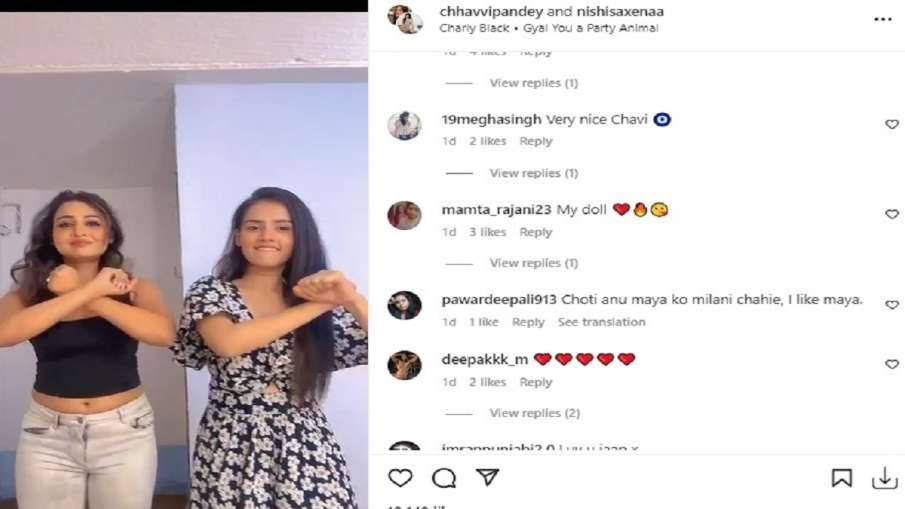 maaya post
Yeh Rishta Kya Kehlata Hai: This act of Kairav ​​will lead to Akshu's happiness, now he will be trapped in the illusion of relationships
Maya's character in the serial may be against Anupama but she is also getting the support of the audience. However, Anuj Kapadia and the Shah family have been having sleepless nights since Maya's entry. While Anuj's elder brother Ankush is trying to find out everything about Maya, Anupama has made Maya her own by giving her a place in her house. At first, Anuj tries his best to convince Anupama, but later he understands that Anupama will do what she wants and whatever she does will be right. Whatever may be happening in the serial, in real life the cast of 'Anupamaa' is having a lot of fun.
Anupamaa: A terrible twist is about to come in the show, now 'Maya"s friend will enter to poison the Kapadia family