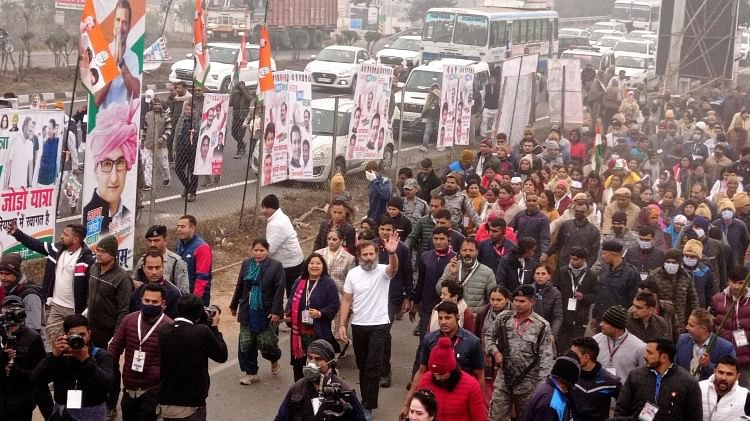 Bharat Jodo Yatra in Ambala.
– Photo: Samvad News Agency
Expansion
In Bharat Jodo Yatra, Rahul Gandhi will unfurl the flag at Mohra Grain Market before 6 am on Tuesday. After this, the journey will start from six o'clock. First of all the journey from Mohra Grain Market will enter Ambala Cantt. Here in front of Ambala Cantt railway station, passing through Kali Paltan bridge, it will reach Jandli bridge from service lane.
From here the yatra will enter Ambala city. The yatra will be welcomed by Congress workers at various places in Ambala city. After this the yatra will go till Agrasen Chowk. From here, Bharat Jodo Yatra will enter Punjab via Kalka Chowk and further Shambhu border.
press conference in saini ashram

Senior Congress leader Jairam Ramesh, Congress state in-charge Shakti Singh Gohil, former CM Bhupendra Singh Hooda and Leader of Opposition and Congress State President Udaybhan will answer the questions of journalists by holding a press conference at Saini Ashram on Tuesday at 11 am.
The road going to Ambala will be closed till 12 o'clock today

Kurukshetra Shahabad-Ambala road will remain closed from 6 am to 12 noon today for Bharat Jodo Yatra. In this regard, SP Jashnadeep Singh Randhawa has asked the drivers not to bring vehicles on this route at this time.

He told that for this, vehicles coming from Kurukshetra and Shahabad towards Ambala, Chandigarh, Panchkula and Punjab can go from Shahabad via Saha Road via Shahzadpur, Raipurrani, Panchkula to Chandigarh and Punjab. Similarly, vehicles coming from Yamunanagar towards Ambala can come via Barara from Shahabad towards Ambala.
The road to Ambala Cantonment and Ambala City will remain restricted during this period. SSC exam is to be held on January 10, 2023 from 6 am to 7 pm at I-Digital John Examination Center near village Shahpur Ambala. Due to Bharat Jodo Yatra, there will be a complete ban on parking the vehicles of the examinees coming for the examination to be held from 6 am to 12 noon in front of this examination center.