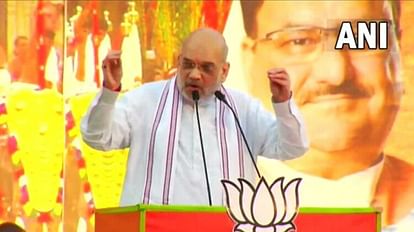 Amit Shah
Photo: ANI
Expansion
Home Minister Amit Shah is reaching Patna on Saturday. He will remain in the rest of the programmes, but his proposed program on Emperor Ashoka in Sasaram has been cancelled. Giving formal information about this, BJP's new state president Samrat Chaudhary said- "We were going to do a big program in Sasaram to remember Emperor Ashek with great enthusiasm, but the Bihar government could not provide security. There are bombs going off on our people. ,
In fact, in view of Home Minister Amit Shah's visit to Sasaram, the effort to control the situation was said to be intensifying. However, Shah's visit has been canceled due to the imposition of Section 144 and tense situation around the venue. The latest condition is that along with the shops in Kadirganj, Mubarakganj, Chaukhandi Navratna Bazar, the doors of the houses are also closed. Despite this, stone pelting was reported for 10 minutes on Saturday as well. No information has been received about any injuries in this. But, this incident is telling that the tension is still there.
has converted the area into a cantonment
The police have converted the area into a cantonment to control the situation. The patrolling continued on the road at night and the situation is the same in the morning. More than a dozen people are being detained and questioned. A case has been registered against two people. Police is giving information about the implementation of section 144 through mike. Efforts are on to stop the rumors by keeping the internet service at a standstill. The police is busy preparing for the peace committee meeting. Selected people from both the sides have been called for the peace committee meeting at 12 noon.
Updating news…