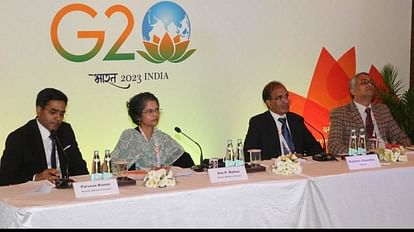 Praveen Kumar Director Ministry of Finance, Anup P Mathai Advisor Ministry of Finance, Rajendra Chowdhary ADG PIB, B Purusharth Joint Director Ministry of Finance attending the press conference of G-20
– Photo: Amar Ujala
The two-day meeting of the International Financial Structure Working Group of the G-20 also discussed ways to bail out debt-ridden countries. Suggestions were also sought to further improve the Debt Service Suspension Initiative (DSSI) initiated on the decisions of the previous meetings.
Anup Mathai, Economic Advisor to the Ministry of Finance, said that the problem of debt in various countries is very old and is increasing at present. At the moment it is difficult to find some solution on this issue after just one meeting. This issue will also be discussed in the next several meetings so that the G-20 member countries can decide what can be the best way to get the countries out of the debt problem.
He said that after the previous meetings, the Debt Service Suspension Initiative (DSSI) was brought in to bring the poor countries out of debt crisis. Accordingly, a provision was made to extend the time limit for loan repayment, but now the group has found that there are many challenges in that too. They have also been seriously discussed in the meeting.
It has been talked about what can be done to make this initiative even better. Anup P. Mathai told that Zambia, Ghana, Suriname of Africa, poor countries of Latin and Central America are also facing the problem of debt. Sri Lanka in Asia is also suffering from the same problem.