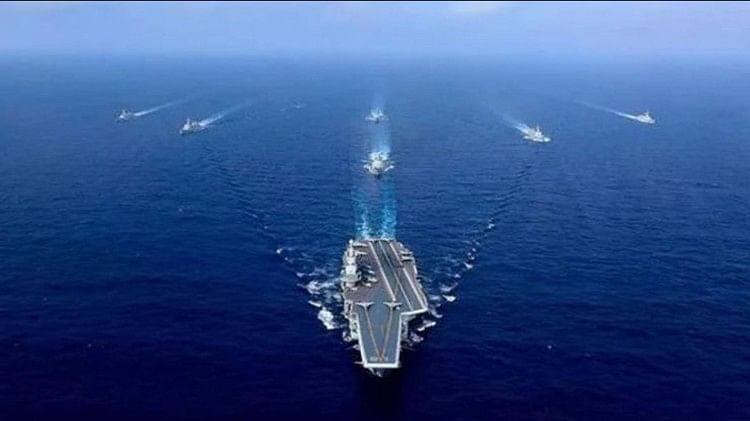 China's maneuvers around Taiwan for the second time in a month
– Photo: Social Media
Expansion
China's intentions regarding Taiwan are not looking right. On Sunday, the Chinese army once again conducted maneuvers in the surrounding areas of Taiwan. Dragon tested air and naval attacks for the second time in a month on Sunday.
China's People's Liberation Army (PLA) issued a statement on Sunday saying that its Eastern Theater Command conducted a joint exercise in the Gulf of Taiwan. In this, war preparation, patrolling and actual fighting were practiced. This exercise was done in air and sea areas.
The PLA issued a statement saying the exercise was aimed at testing the country's military's joint capabilities and preparedness to fully counter provocative actions by external forces and forces supporting Taiwan independence.

China had conducted a similar exercise late last month. Taiwan then said that 43 Chinese planes crossed the center line of Taiwan Gulf. This area is an informal buffer zone (strategically important) between the two countries.
China considers Taiwan as its own

No response has been received from Taiwan regarding the latest maneuvers of China. The Chinese government considers Taiwan as its territory. China has not hesitated to use force to take over autonomous Taiwan. In the past three years, it has been continuously making military incursions into the sea and air space around Taiwan.
China was incensed by the visit of former US speaker Pelosi

Earlier in August last year, China was enraged over the visit of the then Speaker of the US House of Representatives, Nancy Pelosi, to Taiwan. He tried to scare China and America by showing his military might. Democratic Taiwan had also made counter-preparations. It resolutely opposes China's ill-intentions and rejects China's claim on it.