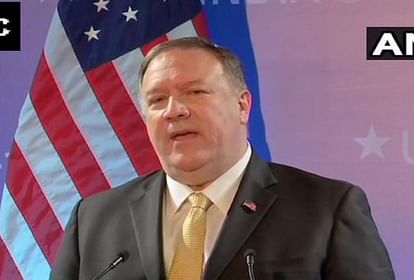 mike pompeo
Photo: ANI
Expansion
Former US Secretary of State Mike Pompeo has made a shocking claim about North Korean dictator Kim Jong-un and China. In his new memoir, Pompeo says Kim Jong-un once told him he needed US forces in South Korea to defend against Chinese dominance.
In his new memoir titled 'Never Give An Inch, Fighting for the America I Love', the former US Secretary of State has said that the North Korean leader is not at all worried about the US military presence in South Korea. He made this claim based on his first meeting with Kim Jong-un in Pyongyang ahead of the US-North Korea summit on March 30, 2018, and the talks that took place during that.
China is lying to the world on North Korea!

Pompeo claimed that when he told Kim Jong that China repeatedly told the US that the North Korean leader wanted US troops to withdraw from South Korea, Kim Jong said that China was lying about it And they need South Korea US military to avoid China, so that issues like Tibet and Xinjiang can be resolved.
India-Pakistan were preparing for nuclear war

Mike Pompeo has claimed that the then Indian External Affairs Minister Sushma Swaraj told him that Pakistan was preparing for a nuclear strike after the Balakot surgical strike in February 2019. He was stunned to hear this. According to Pompeo, Sushma Swaraj had said that in view of this, India is also preparing for an aggressive response. Pompeo said the incident happened while he was in Hanoi for the February 27-28 US-North Korea summit. After this his team worked overnight with India and Pakistan to avert this crisis. The former US Secretary of State said, I don't think the world knows how close India-Pakistan tensions came to a nuclear attack in February 2019.