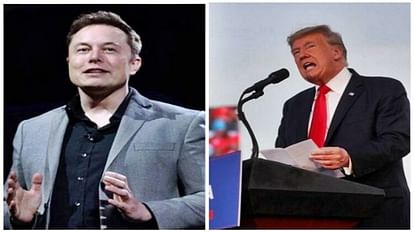 Former US President Donald Trump and Tesla CEO Elon Musk.
Photo: ANI
Expansion
Tesla and Twitter CEO Elon Musk has claimed that former US President Donald Trump can be re-elected with a landslide victory if he is arrested. Actually, Donald Trump himself has claimed on his social media platform Truth Social on Saturday that he may be arrested soon. Trump said he expected to be arrested Tuesday in a case brought by the Manhattan district attorney's office. He also called on his supporters to protest his arrest, reports CNN.
Responding to the news, Musk tweeted, "If this happens, Trump will be re-elected with a landslide." The CEO of Twitter gave this response to a report by Fox News. Fox News reports that Trump may be 'arrested' soon.
New York City has been meeting for weeks among city, state and federal law enforcement agencies to prepare for a possible indictment of Trump in connection with a year-long investigation into a hush-money scheme involving adult film actress Stormy Daniels, according to CNN. How to do. Meanwhile, Trump has not said what information he has been given about the indictment and possible charges, according to a CNN report. However, his legal team is anticipating that Trump will be arrested soon and is already preparing behind the scenes to deal with it.
Donald Trump himself said that the Manhattan District Attorney's Office is going to charge him in the hush money case. However, Trump has not shown any evidence related to this and he has not said what the charges will be.
The case concerns porn star Daniels, whose real name is Stephanie Clifford, who says she had an affair with Trump a decade ago. However, Trump has denied the affair. Trump was the President of the US from 2017 to 2021 and has said that he will seek to return to the White House in the 2024 US presidential election.
this is the whole matter
Documents last year revealed that Trump and his former top aide Hope Hicks were directly involved in paying porn star Stormy Daniels a hefty sum to keep her mouth shut during the 2016 presidential campaign. After this, Trump's former lawyer in this case, Michael Cohen, confessed his crime in August last year, saying that he had paid Stormy at the behest of Trump. But then it was not clear whether Trump had a direct role in it or not.
According to the documents, in October 2016, Stormi was paid $1.30 lakh. Cohen spoke to Trump twice over the phone before giving Stormy the money. Stormy has previously claimed that she had an intimate relationship with Trump in 2006.
If Trump is indicted, it would be unprecedented in American history. Prior to his resignation in 1974, Richard Nixon faced possible criminal charges related to the Watergate scandal, but was pardoned by his successor, President Gerald Ford.