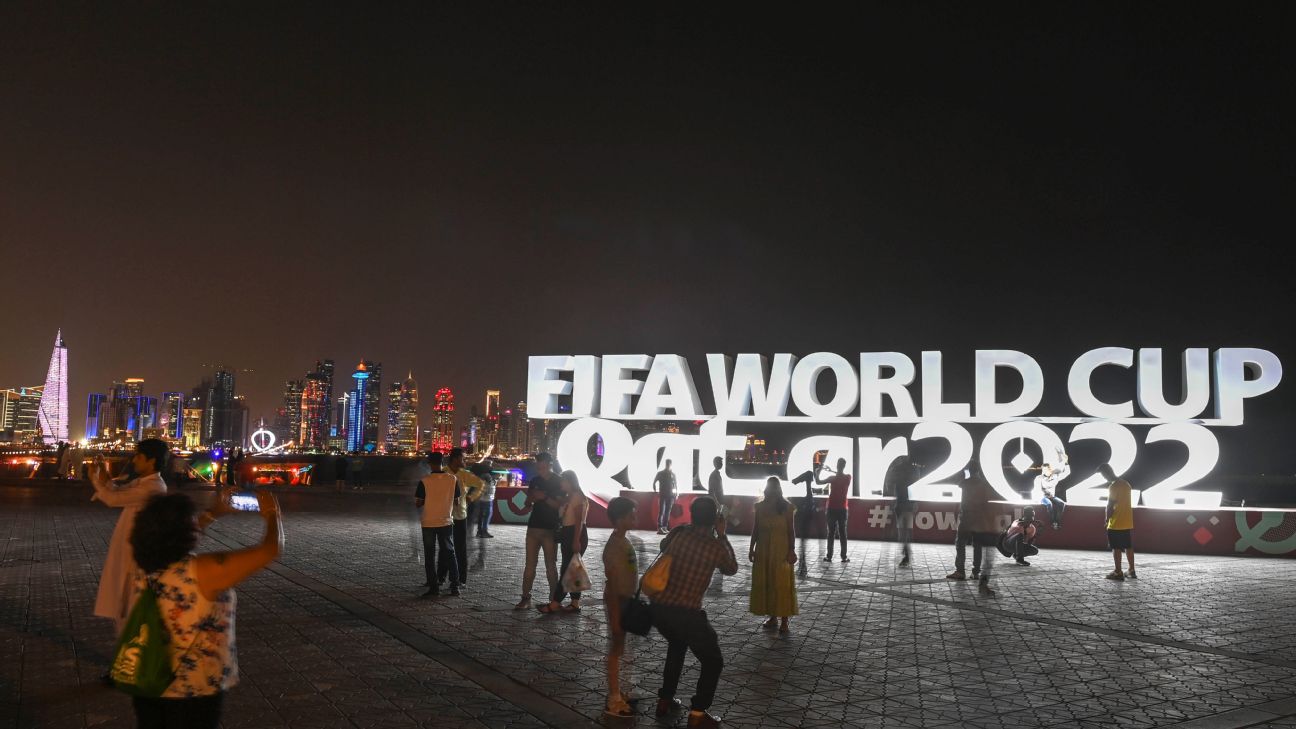 Prominent human rights campaigners have accused FIFA of "whitewashing" migrant workers' abuses through "sinister" tactics and called for stronger, more transparent implementation of a compensation fund.
Questions have been repeatedly raised about the treatment of migrant workers in Qatar before and during the World Cup The Guardian claims around 6,500 people were killed due to excessive and substandard working conditions in the Gulf state as it prepared to host the tournament.
That figure was strongly opposed by Qatar's Supreme Committee, with the organization's secretary-general, Hassan al-Thawadi, suggesting last month that The number was "between 400 and 500".
, Stream the E60 documentary, "Qatar's World Cup," on ESPN+
, Qatar World Cup 2022: Games washing, security and football
FIFA confirms another migrant worker has died Last week, while reportedly carrying out repairs at a site to be used as Saudi Arabia's base during the World Cup.
Amid widespread and growing pressure to compensate workers, Qatar established a Workers' Assistance and Insurance Fund in 2018, which it claims has provided more than $350 million to those affected, mainly in delayed or unpaid wages. To deal with the issue of non-payment of Rs.
FIFA has also announced a Legacy Fund, financed by a percentage of commercial revenue generated through the World Cup, which includes the creation of a "Labour Center of Excellence" in collaboration with the International Labor Organization (ILO), designed to promote "best practices in labor matters". Designed to help you share". and support adherence to the United Nations Guiding Principles on Business and Human Rights when hosting FIFA tournaments."
However, the Migrant Rights Coalition, which includes campaign groups Human Rights Watch, Amnesty International, Fairsquare and Equidem, believes that FIFA is still failing to meet its human rights responsibilities.
"FIFA's egregious cover-up of grave abuses against migrant workers in Qatar is both a global shame and a sinister strategy that calls for compensation for the thousands of workers who suffered abuses and the families of those who died making this World Cup possible." to avoid its human rights responsibility." said Tirana Hasan, acting executive director at Human Rights Watch.
"FIFA continues to cash in billions of dollars in revenue, but refuses to offer a cent to the families of migrant workers who died or workers who were defrauded of their wages."
In a statement released on Monday, the Migrant Rights Coalition claimed that the Workers' Support and Insurance Fund "is not currently able to provide compensation on any meaningful scale related to the deaths, injuries and historic wage theft that occurred a decade ago. Was commissioned in 2020.
It continued: "Despite repeated requests by Human Rights Watch and Amnesty International, Qatari authorities have failed to provide separate details regarding the $350 million in compensation announced to migrant workers for wage theft.
"Furthermore, the research also showed that victims' access to existing compensation mechanisms is riddled with barriers, payments are withheld, and applications are nearly impossible for workers or families as they return to their home countries." went."
The coalition also argues that FIFA's Legacy Fund makes no specific reference to the money being used to compensate migrant workers who are victims of abuse and say that from working conditions at the Center of Labor Excellence. The issues concerned must have "access to a remedy" as this is one of them. The guiding principles of the United Nations, to which FIFA is publicly committed.
"The World Cup workers and their relatives are seeking compensation from us for unpaid wages, recruitment fees and other damages, including death," said Mustafa Qadri, Equidem's chief executive.
"Instead of moving the goal posts, FIFA and Qatar should heed these calls. The tournament has been beset by the death and exploitation of workers and significant restrictions on freedom of expression and solidarity with the LGBTI+ community. An opportunity to end the tournament with a positive legacy for the women and men who made it possible."