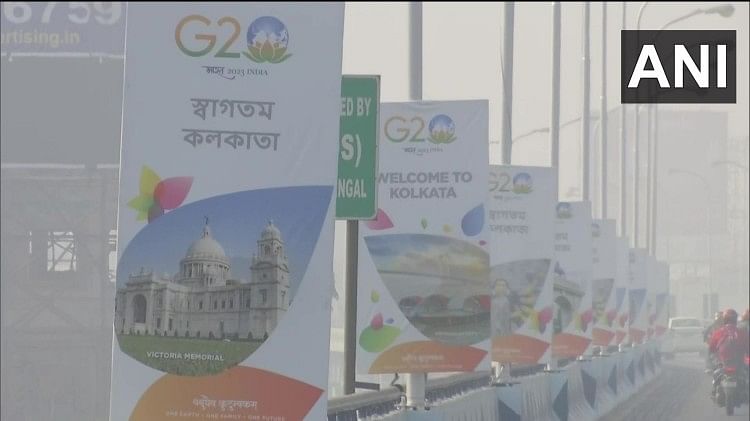 First meeting on GPFI to be held in Kolkata known as City of Joy
Photo: ANI
Expansion
The first meeting of the G-20 under the chairmanship of India is starting in Kolkata from today. In this meeting, which will run from 9 to 11 January, representatives of different countries will brainstorm on the Global Partnership on Financial Inclusion (GPFI). There will be many sessions and meetings in all the three days.
Several delegates from the member countries of the organization have reached Kolkata to attend the Kolkata meeting of GPFI. The meeting has been organized at the Vishwa Bangla Convention Center in Newtown, Kolkata.
Kolkata, known as the City of Joy, has been decorated for the meeting. Special flexes and posters of G-20 have been put up from the airport to the venue to welcome the guests. All major sightseeing places including Kolkata's Victoria Memorial, Indian Museum, Howrah Bridge, Thakurbari have been specially decorated. Foreign guests will be given a tour of it.
West Bengal | The city of joy, Kolkata gears up for the first meeting of Global Partnership for Financial Inclusion (GPFI) under India's G20 Presidency. Delegates arrived at Kolkata Airport.


The meeting will take place from January 9 to January 11. pic.twitter.com/6BygQXkIGP
— ANI (@ANI) January 9, 2023
According to the Ministry of External Affairs, in this meeting on partnership on financial inclusion, improving the infrastructure of the financial system of the member countries, use of new technologies, easing fund transfer, increasing financial literacy and digital financial literacy and digital among the member countries. Important issues like bridging the gap will be discussed.

Apart from representatives of many countries associated with G-20, representatives of International Monetary Fund, Ministry of Finance, NABARD and various banks and financial institutions will also participate in the meeting on GPFI. Let us tell you that India has got the chairmanship of this organization only this year. During this hundreds of such meetings are going to be organized in different parts of the country throughout the year. Under its leadership, India is trying hard to give new dimensions to this organization and to take it to a new high level.