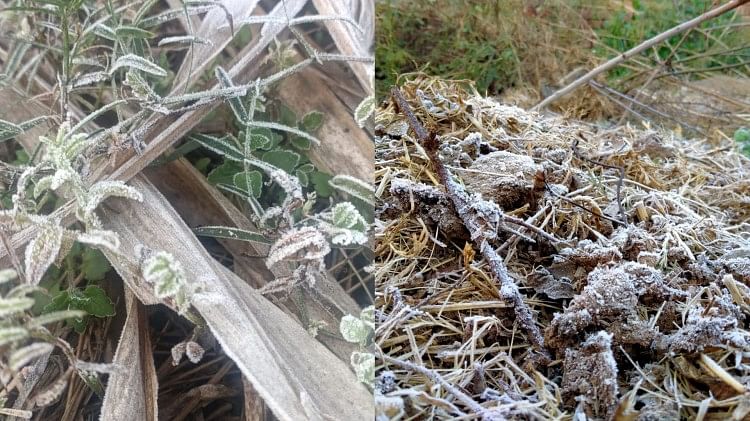 Deposited in Mahendragarh and Jind.
– Photo: Samvad News Agency
Expansion
The third phase of severe winter has started in many states including Haryana. The mercury reached minus 1 degree in Balsamand of Hisar on Sunday. Frost deposits were visible at many places in the rural areas. Cold winds were blowing at a speed of 10 kilometers per hour since morning. The Meteorological Department has issued an orange alert for severe cold and dense fog till January 19. The cold wave will be more intense.
Meteorologist Dr. Chandramohan told that after heavy snowfall on the mountains, cold winds increased in the plains of Haryana, Punjab, Rajasthan, Delhi, Uttar Pradesh and North Madhya Pradesh on Sunday due to the icy winds blowing from there. The minimum temperature dropped to 3-5 degree Celsius in most areas. Due to the effect of Western Disturbance, the temperature will start increasing after January 20. Due to two Western Disturbances becoming active on 19th and 22nd January, light rain may occur at isolated places and at most places during 22nd to 24th January. Winds will blow at a speed of 15 to 25 kmph on January 23-24.
minimum temperature
Balsamand Hisar Minus 1.0
Rewari 0.6
Mahendragarh 0.8
Sonipat 1.0
Kaithal 1.7
Sirsa 1.8
Gurugram 1.9
Jhajjar 2.3
Fatehabad 2.3
Ambala 3.2
Karnal 3.3
Yamunanagar 3.7
Mewat 3.8
Jind 4.6
Bhiwani 4.7
Rohtak 5.2
Kurukshetra 5.3
Faridabad 7.0
advice to farmers

Agricultural experts have advised to keep doing light irrigation on the crops and smoke around the fields. To protect crops like mustard, wheat, gram, potato, peas from frost, sulfur has been asked to be sprayed.
National Highway Chandigarh-Manali remained closed for four hours due to landslide

Due to the snowfall in Himachal in the past, vehicular movement came to a standstill on 178 roads in the state till Sunday evening. The Chandigarh-Manali National Highway remained closed for four hours due to landslides near mile four of district Mandi. It was opened for one-way vehicular traffic at 4 pm. 8 water schemes and 5 power transformers also remained closed. Due to this, the supply of electricity and water was affected in many areas. However, till January 17, the weather is expected to remain clear in all the areas of the state.