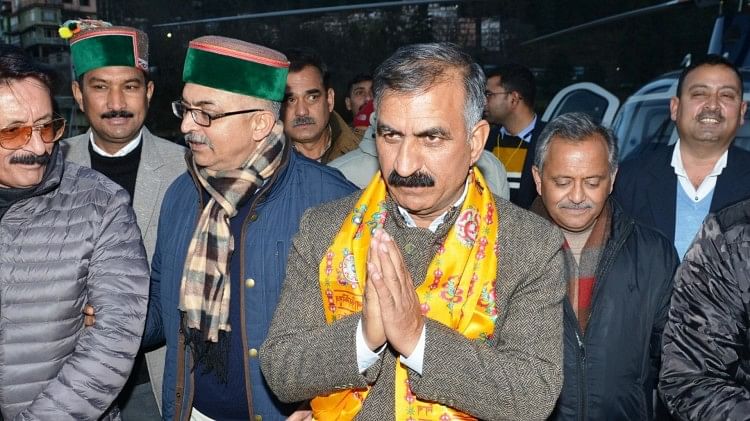 Chief Minister Sukhwinder Singh Sukhu.
– Photo: Amar Ujala
Expansion
The cabinet expansion of the Sukhu government will take place today, one month after the declaration of the results of the assembly elections. Chandra Kumar from Kangra, Dhaniram Shandil from Solan, Harshvardhan Chauhan from Sirmaur, Rohit Thakur from Shimla and Jagat Singh Negi from Kinnaur are almost certain to be made ministers.
In the first phase, only five MLAs are being given ministerial posts in the Sukhu government. On the other hand, the MLAs of Kangra and Shimla district, who reached power to become ministers, will also have to wait for becoming ministers.
Governor Rajendra Vishwanath Arlekar will administer the oath to the ministers at 10:00 am on Sunday at Raj Bhavan Shimla. As soon as the information about cabinet expansion was received from the government, the Raj Bhavan secretariat started preparations for the oath ceremony on Saturday late evening. Chief Minister Sukhwinder Singh Sukhu returned to Shimla from Delhi at around 5:30 pm on Saturday evening.
He told that he has discussed cabinet expansion with Congress National President Mallikarjun Kharge and General Secretary Organization KC Venugopal. On the other hand, the Congress high command has decided to make only five ministers in the first phase to avoid opposition.

Five ministers are being made from Shimla parliamentary

Three ministers Anirudh Singh, Vikramaditya Singh and Rohit Thakur will take oath from district Shimla. Apart from these, Dhaniram Shandil from Solan, Harshvardhan from Sirmaur and Jagat Negi from Kinnaur, Chandra Kumar from Kangra are also becoming ministers. The appointment of CPS and Chairman will also take place today.