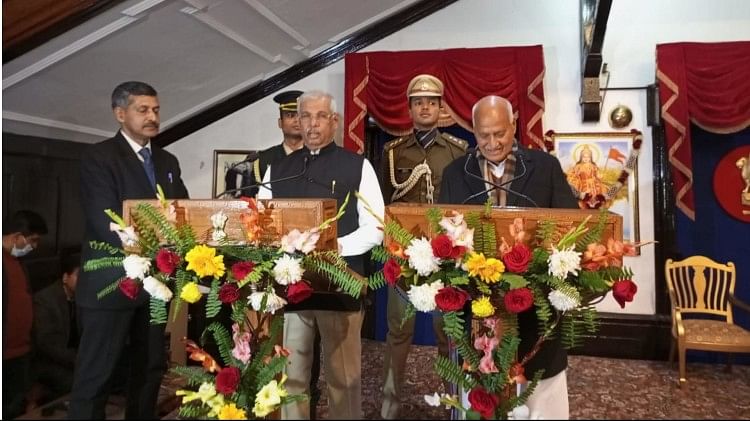 Chandra Kumar taking oath as minister.
Photo: Samvad
Expansion
Seven MLAs have been made ministers in the Sukhwinder Sukhu government of Himachal Pradesh. The swearing-in ceremony took place at Raj Bhavan Shimla on Sunday. Chief Secretary Prabodh Saxena conducted the proceedings. Governor Rajendra Vishwanath Arlekar administered the oath of office to seven MLAs. Dhaniram Shandil was the first to take oath as a minister. After this, Chandra Kumar took the oath of the post of minister at the second place. Harshvardhan Chauhan in third place, Jagat Singh Negi took oath as minister in fourth place. Rohit Thakur took oath as a minister at the fifth position. Anirudh Singh took the oath of office at the sixth position and Vikramaditya Singh at the seventh position. Shimla has got three ministers in the first list itself. Three posts of ministers will remain vacant.
Earlier, Chief Minister Sukhwinder Singh Sukhu administered oath to six MLAs as Chief Parliamentary Secretaries and Parliamentary Secretaries. Six Chief Parliamentary Secretaries and Parliamentary Secretaries have been appointed in the Sukhu government. Sundar Singh Thakur was administered the oath of Chief Parliamentary Secretary by the Chief Minister. Ramkumar Chowdhary, Mohan Lal Brakta were also sworn in as Chief Parliamentary Secretaries and Ramkumar as Parliamentary Secretary.
Ashish Butail has also been made the Chief Parliamentary Secretary. He also took the oath. Kishorilal, Sanjay Awasthi were also made the Chief Parliamentary Secretaries. The initiative to make the Chief Parliamentary Secretary was started in the Virbhadra government. When the limit for making ministers was fixed that apart from the Chief Minister, only 11 ministers could be made.