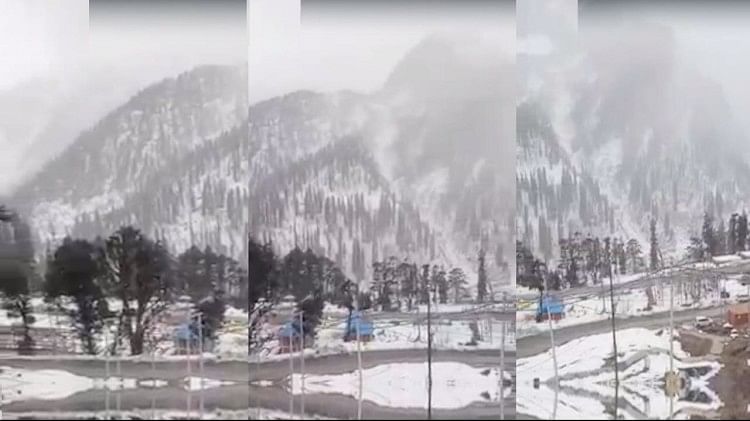 Snowfall in Lahaul.
– Photo: Amar Ujala
Expansion
The weather has changed in Himachal Pradesh. Snowfall has started in Lahaul-Spiti including the higher peaks. There is a forecast of bad weather in the state for four days. At the same time, there is a possibility of heavy rain and snowfall in seven districts of the state. According to the Meteorological Center Shimla, there is a forecast of rain and snowfall in most parts of the state from January 11 to 13. During this, there is a possibility of rain in the lower and plain areas, while there are chances of rain and snowfall in the middle and higher mountain areas. A yellow alert for heavy rain and snowfall has been issued for Chamba, Kangra, Mandi, Kullu, Shimla, Lahaul-Spiti and Kinnaur districts on January 12.
An alert has also been issued in some parts of Sirmour. There is a possibility of rain and snowfall in some parts of middle and high mountains on January 10 as well. Local people and tourists have been asked to follow the advisories and guidelines issued by the concerned departments. The weather is likely to remain clear from January 14. At the same time, the weather has remained bad since morning in other parts including Shimla. As soon as the snowfall starts, the Lahaul-Spiti administration has instructed the tourists to avoid unnecessary travel in bad weather. Travel only in case of emergency and leave for a safe place as soon as possible.
minimum temperature

Minimum temperature in Shimla 10.3, Sundernagar 6.1, Bhuntar 6.0, Kalpa 2.0, Dharamshala 9.2, Una 6.0, Nahan 7.3, Keylong minus 1.8, Palampur 10.0, Solan 6.0, Manali 6.0, Kangra 8.9, Mandi 6.1, Bilaspur 5.5, Hamirpur 7.7, Chamba 8.7, Dalhousie 9.0, Jubbarhatti 10.4, Kufri 8.7, Kukumseri 0.3, Narkanda 6.0, Kasauli 12.5, Reckong Peo 5.5, Sewbagh 6.5, Dhaulakuan 6.5, Barthin 6.8, Paonta Sahib 6.0 and Sarahan recorded 1.5 degree Celsius.
maximum temperature

Dalhousie 13.8, Chamba 21.9, Kukumseri 6.5, Keylong 2.6, Dharamsala 17.5, Kangra 18.3, Hamirpur 20.4, Una 15.2, Sundernagar 17.3, Bilaspur 19.0, Narkanda 12.8, Shimla 17.2, Kufri 12.4, Kasauli 15.5 and Dhaulakuan 21.5 degrees Celsius. .