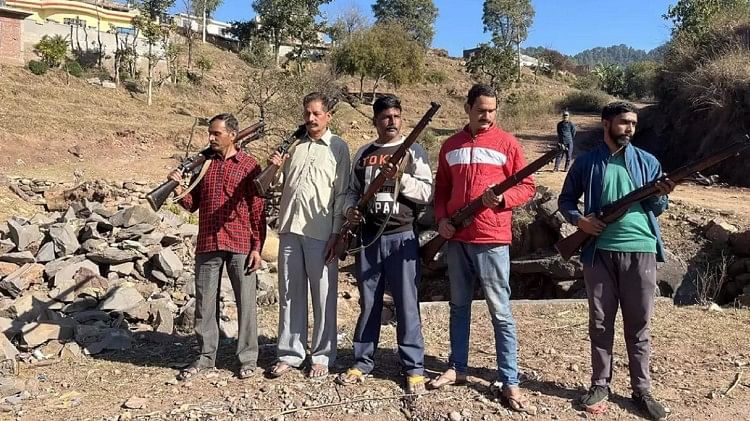 Jammu-Kashmir: VDC members with weapons after Rajouri incident
– Photo: PTI (File Photo)
Expansion
The bravehearts of 'CRPF', who gave a befitting reply to the terrorists in Jammu and Kashmir, will now teach the villagers how to use weapons under the auspices of the Village Development Committee (VDC). In many rural areas of the state, people already have licensed weapons. After the big terrorist attack in Poonch-Rajouri, now a strategy has been prepared to execute this plan in all the areas of Jammu and Kashmir. This training will be given by CRPF in the village itself. Where and how many people will be trained, its details are being prepared.
Recently, a major terrorist attack took place on the very first day of the new year in Dhangari village of Rajouri sector of Jammu and Kashmir. Four people were killed in it, while six people were injured. The very next day, two people lost their lives in an IED blast. Apart from this, nine people were injured. After this, the Union Home Ministry, Intelligence agencies and the Jammu and Kashmir administration had taken several steps for the safety of the villagers. One of those initiatives includes training the villagers there to use weapons. The government can issue new licenses for arms.
An IG rank officer at the CRPF headquarters has confirmed this. He told on Monday that where and where this training program will run, how many people will be trained and what will be the nature of weapons, all these things will be decided by the Jammu and Kashmir administration. After the attack in Rajouri sector, 18 companies of CRPF have been deployed there. Some villagers have SLR rifles, while most have other types of weapons.
Many newcomers may also be given guns by the administration. It is being said that this scheme will be implemented in all the areas of Jammu and Kashmir. However, as of now CRPF has got the responsibility of trending people in Poonch and Rajouri region. It is possible that whatever security force is deployed in the area, it should be entrusted with the responsibility of imparting training there.