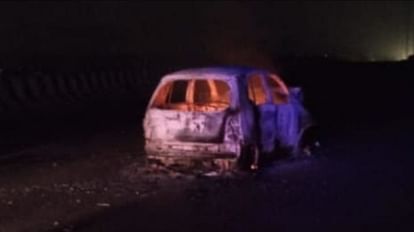 Sumit died due to suffocation after the car caught fire.
– Photo: Samvad News Agency
Expansion
A Delhi Police constable died of suffocation when a Santro car caught fire on the Jhajjar Road flyover of Bahadurgarh bypass in Haryana's Bahadurgarh on Tuesday morning. As soon as the information was received, the police reached the spot and sent the body to the civil hospital. After conducting the postmortem, the police handed over the dead body to the relatives.
The deceased has been identified as Sumit, a resident of Najafgarh. Sumit had gone to meet his relatives near Maham. When he was returning, his car caught fire on the Jhajjar Road flyover. Due to which Sumit died on the spot. The body was found lying outside the car.
It is being speculated that after the car caught fire, the driver must have come out by breaking the glass, but could not escape. The rear part of Sumit's body was completely burnt, while looking at the front part, it seems that he did not get caught in the fire.
Sumit was 32 years old and the father of two children. Both the front and rear number plates of the car were gutted in the fire. Efforts were made to identify the owner through the chassis number of the vehicle. The deceased Sumit was posted as a constable in Delhi Police.
If the photo went viral on WhatsApp group, it was identified

Police investigating officer Narendra Kumar said that the incident is being told around 4 am on Tuesday. Sumit was going to Najafgarh in his Santro car, but suddenly the car caught fire. After the fire broke out, the driver also put the vehicle on the roadside. It is being speculated that the driver may have also tried to come out by breaking the glass.
But due to suffocation, he fell unconscious there and died. Later the passers-by informed the police about the incident. The photo of the deceased was made viral on the WhatsApp group for identification. After this he was recognized. Sumit's father Ajmer Singh reached Bahadurgarh and identified him. After this the post-mortem of the dead body was done and handed over to the relatives.