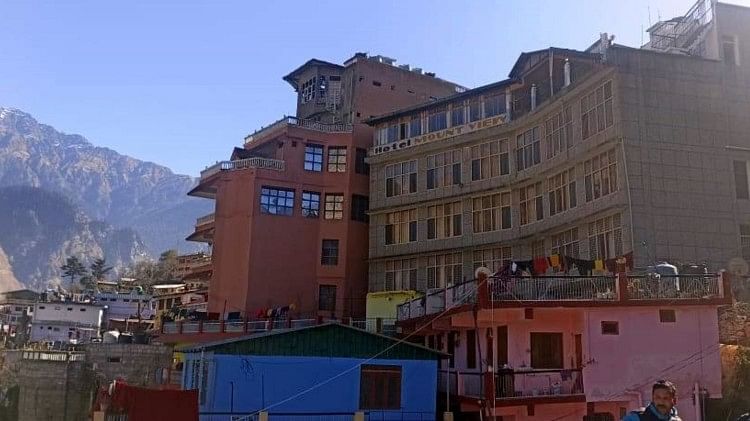 Hotel Malari Inn and Mount View
– Photo: Amar Ujala
Expansion
The campaign to demolish the buildings which have become unsafe due to landslide in Joshimath will start from today. Chief Secretary Dr. SS Sandhu has given instructions to demolish unsafe buildings. Under the supervision of the scientists of the Central Building Research Institute (CBRI), the team of Lonivi will do the work of demolishing the buildings, the teams of both the institutes have reached Joshimath. Red marks have been placed on unsafe buildings.
Secretary Disaster Management Dr. Ranjit Sinha said that the CBRI team that reached Joshimath had surveyed Malari Inn and Mount View Hotel on Monday. The demolition of the buildings will start from these two hotels. These hotels have been badly damaged.
Joshimath Sinking: Asia's longest Joshimath-Auli ropeway in danger, 678 number of unsafe buildings
First of all Hotel Malari Inn will be demolished. Action will be taken to break the hotel under the direction of the team of experts from Central Building Research Institute Roorkee and in the presence of NDRF, SDRF. During this, two JCBs, a big crane and two tipper trucks have been deployed along with 60 labourers.

Weather challenge also in front of the administration
There is also the challenge of weather in front of the administration. Given the possibility of rain or snowfall, the government wants the most vulnerable buildings to be demolished immediately.
Buildings will be demolished sequentially

According to Disaster Management Secretary Dr. Ranjit Sinha, all those buildings will be demolished sequentially, in which cracks have come. Unsafe buildings will be demolished first.
Buildings will be demolished with mechanical technology

The help of explosives will not be taken for demolishing the buildings. Under the supervision of CBRI scientists, the Lonivi team will demolish the buildings with mechanical techniques. For this the help of laborers will be taken.

Complain on these numbers

For any kind of problem or complaint, control room number 8171748602 of Joshimath Tehsil has been issued by the district administration. Apart from this, complaints can be lodged on the telephone numbers of Disaster Management Authority, Chamoli, 01372- 251437, 1077 (toll free), 9068187120 and 7055753124.