These days Delhi Police is engaged in solving the mystery of Shraddha Walkar murder case. Shraddha's live-in partner Aaftab Poonawala murdered her, dismembered her body into 35 pieces in different areas of Delhi. Whoever heard this case, his soul trembled. Even on social media, people are giving their reaction on this and are demanding justice in this matter as soon as possible. Meanwhile, a new information has come to light in the Shraddha murder case, Shraddha had written a letter in 2020, a copy of which has gone viral. Sharing this copy from her Instagram account, Bollywood actress Kangana Ranaut has written an emotional post.
Read also: Drishyam 2 Collection Day 6: Ajay Devgan's 'Drishyam 2' is earning a lot at the box office, close to 100 crore club
Kangana wrote in her post, ' This is the letter Shraddha wrote to the police in 2020 pleading for help. He always used to scare her and threatened to tear her to pieces. He has written that he used to blackmail her but somehow he brainwashed her and took her to Delhi with him. She was not weak or emotionally needy. She was a girl, born to live in this world but unfortunately had a woman's heart inside, whose natural instincts are to protect and heal. A woman is a mother, she never discriminates. She believes in the land of fairies and believes that her love is needed to set the world right.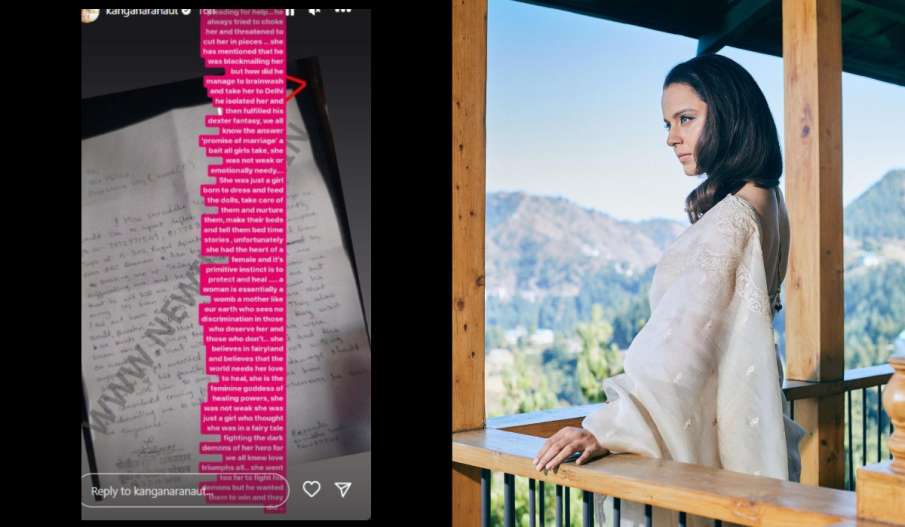 kangana ranaut post
Kangana further wrote, 'She was not weak, she was just a girl who thought she was fighting black demons in a fairy tale, as we all know that love conquers all.' This post of Kangana is going viral on social media and users are giving reactions on it. Aftab, who has confessed to the crime of killing Shraddha, is to undergo a polygraphy test today. Earlier this test was to be held on Wednesday but due to Aftab's ill health, this test had to be postponed for a day. In Shraddha Walker's letter dated 23 November 2020, it was written that Aftab Poonawala misbehaves with her and kills her. Along with this, Shraddha wrote that Aftab tried to kill her by strangling her.
Vikram Gokhale Health Update: Veteran actor Vikram Gokhale's condition critical, daughter said – don't spread rumors
Birthday Special: Salim Khan's life is no less than any film script, this dream of Salman Khan's father remained incomplete