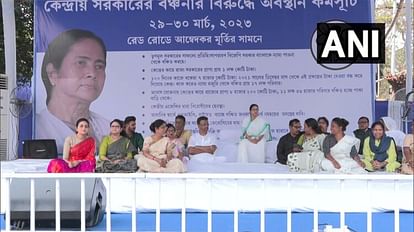 West Bengal Chief Minister Mamata Banerjee.
Photo: ANI
Expansion
Trinamool Congress chief Mamata Banerjee, who was on a sit-in here against the central government's alleged discrimination towards West Bengal, called off the sit-in after about 30 hours. During the dharna, Banerjee continued to attack arch-rival BJP and called for 'one more time Delhi Chalo' to oust it from power.
Ending her dharna, Banerjee announced that in the coming days, her party would protest in the national capital to press for its demands so that the central government releases the dues of the state. West Bengal Chief Minister Mamata Banerjee sat on a two-day dharna in Kolkata from Wednesday in protest against the Centre's alleged discriminatory attitude in front of Dr BR Ambedkar's statue on Red Road in the heart of the city. Several Trinamool Congress (TMC) leaders and workers were also sitting on the dharna with them, including Firhad Hakim and Arup Biswas.
A call was given from Ambedkar statue on behalf of Mamta to 'Let's go to Delhi once'. Netaji Subhash Chandra Bose gave the slogan 'Delhi Chalo' in Singapore 80 years ago. A large number of Mamata supporters had gathered on the dharna. He changed his stand on Wednesday and urged all political parties to fight the Bharatiya Janata Party (BJP) unitedly in the Lok Sabha elections to be held next year.