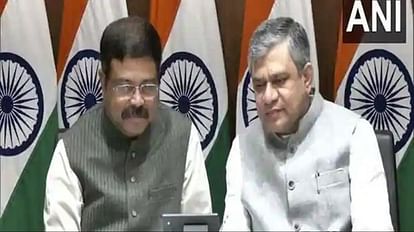 Union Education Minister Dharmendra Pradhan and Electronics and IT Minister Ashwini Vaishnav.
Photo: ANI
Expansion
The Indian version of the operating system (OS) 'Bhar-OS', a basic requirement for running a mobile phone, was successfully tested on Tuesday. Union Education Minister Dharmendra Pradhan and Electronics and IT Minister Ashwini Vaishnav tested it. He called Bhar-OS developed by IIT Madras an important step in developing a self-reliant digital infrastructure under Make in India.
BHAR-OS was tested by making audio and video calls to Dr. KN Satya Narayan, Director, IIT Tirupati, which was successful. Ashwini Vaishnav said that now we have to focus on the development of the app eco-system and chip set for this OS. Self-reliance has to be achieved in both of these. Also, Vaishnav suggested that if one more 'A' is added at the end of the name Bhar-OS, then it can be called 'Bharosa'. Dharmendra Pradhan said that Bhar-OS will also be helpful in meeting the privacy and security needs of Indians, more reliable than foreign operating systems. Soon Bhar-OS will be launched for all, Pradhan said. This is another step of India moving towards self-reliance.
Many people in the world do not want BHAR-OS to be successful: Vaishnav

Without naming anyone, Union Minister Vaishnav warned everyone that the challenges of BHAR-OS have also started from here. There are many people in the world who do not want initiatives like BHAR-OS to succeed. Many new challenges and difficulties are yet to come. We have to make constant efforts to make it successful while being very alert. According to experts, Vaishnav was referring to tech companies like Google, Apple etc. On the strength of their monopoly on these, many cases of preventing new innovations, operating systems and various apps etc. from flourishing in the tech world and engaging in anti-monopoly activities have come to the fore in India, Europe and America.

What is Bhar-OS, also know its benefits
who made

It was developed by J&K Operating Private Limited, a non-profit company working under incubation at IIT Madras.
Who will use?

It has been kept free and open-source. In the coming time, common citizens and government agencies will also be able to use it without any hindrance.
What would be the benefit?

This OS will help India reduce dependence on Apple's iOS and Google's Android OS. That is, the phone of the citizens will remain only a phone, unnecessary apps will not be forced through the OS of American tech companies.

How will the security increase: There are hundreds of apps pre-installed in iOS or Android OS. These are considered a threat to the security of mobile phones and the privacy of users. Users' data is stored without their consent. Users' data will be safe on the use of Bhar-OS. This will protect their privacy.
Load-OS How Different? , In this, the policy of NDA i.e. no default app has been implemented. The process of installing apps is kept separate from the OS. If users want, then only an app will be installed and will work.

Innovation – how will the economic benefits be?

This OS of India will also help app developers, they will not be dependent on big tech companies to release their apps. It will also be easy for the government to earn revenue from it.
other advantages

Users will be able to have better control over the apps running on the OS. It will also prevent any harmful apps from accessing the phone.