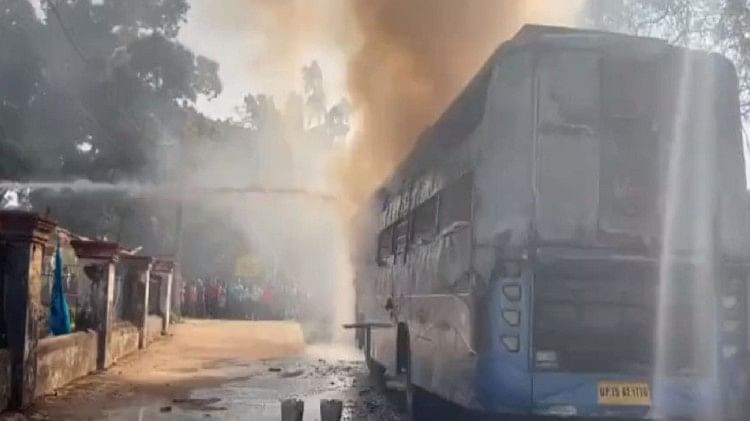 Madhya Pradesh's devotees' bus burnt in Puri.
– Photo: Social Media
Expansion
Devotees going from Gwalior in Madhya Pradesh to visit Jagannath Puri in Odisha caught fire. Devotees from Gwalior boarded the bus and left for the Char Dham Yatra. Fortunately, there was no one in the bus at the time of the accident. After getting the information, BJP spokesperson Sambit Patra reached the spot and interacted with the tourists. Sambit has also shared the video of the incident on Twitter.
According to the information, the incident is being reported near Sakhigopal temple in Puri district. The bus had left for a five-day journey from Gwalior. All the passengers were out of the bus when the bus caught fire. The fire spread rapidly in the bus. There was chaos due to the fire. People informed the fire brigade and tried to control the fire themselves. The fire brigade extinguished the fire after much effort. It is being told that the goods kept in the bus have also been burnt. Here BJP's national spokesperson Sambit Patra also reached the spot. He inquired about the well being of the devotees. There is no clear reason as to how the bus caught fire. It is being verified.
Sambit Patra shared the video and information of the incident through a tweet. He wrote that after receiving the sad news of a fire in a bus full of devotees who had come from Gwalior in Madhya Pradesh to visit Mahaprabhu Jagannath and Gopaljiu in Puri, he reached the spot and supervised the rescue operations. By the grace of Mahaprabhu Jagannath, all the passengers are safe and sound.
In Puri, after receiving the sad news of a fire in a bus full of visitors from Gwalior, Madhya Pradesh, who had come to visit Mahaprabhu Jagannath and Gopaljiu, reached the spot and supervised the rescue operations.


By the grace of Mahaprabhu Jagannath ji all the passengers are safe and sound. pic.twitter.com/YNhet7w4azSambit Patra (@sambitswaraj) January 9, 2023