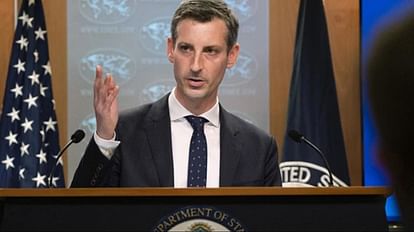 ned price
– Photo: Social Media
Expansion
The US State Department said in a statement on Monday that Finland and Sweden are ready to join NATO. State Department spokesman Ned Price said that the burning of a holy book in which many people have faith is an extremely dishonorable act. Although Ned Price also said that legally something can be right but also strange. Let us tell you that this statement of America came after the statement of Turkish President Recep Tayyip Erdogan, in which he said that Sweden does not expect Turkey's support to join NATO after protests near the Turkish embassy. Should do
Explain that during the protest outside the Turkish Embassy in Sweden, Sweden's right-wing leader Rasmus Paludan burnt a copy of the Holy Quran. Turkey and many other Muslim countries have strongly objected to this. After this, Turkey had also canceled the visit of Sweden's Defense Minister to Turkey. In this tour, important talks were to be held between Turkey and Sweden to join NATO. Sweden's accession to NATO was thrown into jeopardy after the Swedish Defense Minister's visit was cancelled. However, America has now indicated that Sweden and Finland can be included in NATO soon, bypassing Turkey's opposition.
It is noteworthy that Sweden and Finland have been trying to become members of NATO for a long time. However, this dream of Sweden is not being fulfilled due to Turkey's objection. To become a member of NATO, the approval of all its member countries is necessary. This is the reason why Sweden is not able to become a member of NATO because of Turkey. The Kurdistan Working Party is waging a struggle against Turkey for the demand of a separate country.
Turkey alleges that the Swedish government supports the Kurdistan Working Party. At the same time, Turkey is demanding that the Swedish government deport critics of President Recep Tayyip Erdogan. However, Sweden is not accepting these demands of Turkey due to its sovereignty and right to freedom of speech. This is the reason why Turkey is becoming an obstacle in the way of Sweden becoming a member of NATO.