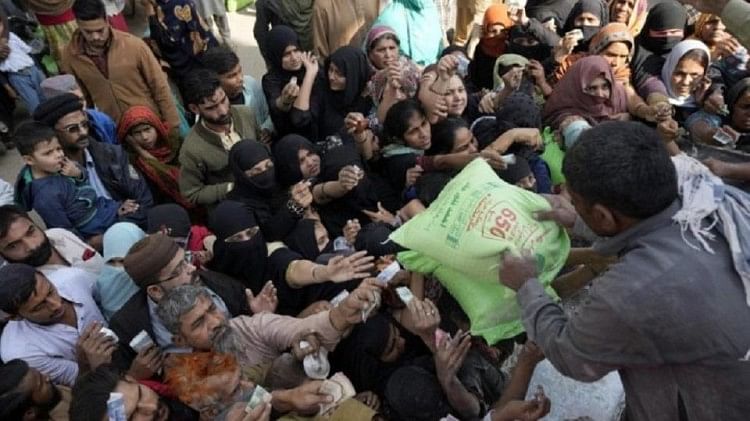 Battle for flour in Pakistan
Photo: PTI
Expansion
The economic situation in Pakistan has become very bad. Wheat stock has run out in many provinces of the country and a serious flour crisis has arisen. The news of stampede is coming in many places. During the commotion, Harsingh Kolhi, a 40-year-old laborer, fell on the road and was trampled to death by the people around, police said. According to a report in The Express Tribune, Kolhi's family has demanded action against the officials of the Food Department. Earlier, one person was killed in Mirpurkhas stampede during the sale of subsidized flour to people by the Sindh government.
Flour price skyrocketed in Pakistan

According to The Express Tribune, with the price of wheat touching Rs 5,000 per maund, the rate of flour in Rawalpindi's open market has shot up to Rs 150 per kg. A 15 kg bag of wheat is being sold for Rs 2,250 in Shahar city of Pakistan's Punjab province. At the same time, the price of subsidized flour, from which people were getting relief, has also started touching the sky. The price of subsidized 25 kg packet flour has gone up to Rs 3100 per packet.
Wheat stocks run out in Balochistan

Addressing a press conference, Balochistan's Food Minister Jamrak Achakzai said that the stock of wheat has run out and they have received only 10,000 bags of wheat instead of two lakh bags. Further said that he had requested Punjab Chief Minister Chaudhary Parvez Elahi for six lakh bags. He said that Elahi had promised to provide wheat. However, he did not fulfill his promise.
Jamrak Achakzai said that he had approached the federal government of Pakistan regarding the wheat. He disclosed that the Government of Pakistan provided him five lakh bags of wheat and they were consumed during the last four months. Achakzai said that Balochistan is dependent on Sindh and Punjab for 85 per cent of its requirement. However, these have banned the sale of wheat outside the province, which has worsened the situation.

Order to take action against wheat hoarders and wholesalers is also not working

Earlier on January 8, Balochistan Chief Minister Mir Abdul Quddus Bizenjo ordered the relevant authorities to crack down on wheat hoarders and wholesalers, with the aim of controlling the shortage of wheat for the people of the province, according to local media. But it doesn't seem to have any effect.
Mir Abdul Quddus Bizenjo said that the administration of all the districts should be mobilized and action should be taken against those who store wheat and sell food items at higher prices. He further said that the people of Balochistan should not be left at the mercy of hoarders and street vendors.