04:24 PM, 10-Jan-2023
The President honored the overseas Indians.
– Photo: Amar Ujala
President honored 27 overseas Indians

President Draupadi Murmu honored 27 overseas Indians. Those honored include-

President to honor 27 expatriates at Pravasi Bharatiya Sammelan

President Draupadi Murmu will conclude the Pravasi Bharatiya Sammelan shortly. During this, she will honor 27 overseas Indians. Those to be honored include-
Pro. Jagdish Chennupati, Australia, Science and Technology/Education
Pro. Sanjeev Mehta, Bhutan, Education
Pro. Dilip Londo, Brazil, Arts & Culture/Education
Dr. Alexander Malaikel John, Brunei Darussalam Medicine
Dr. Vaikuntham Iyer Lakshmanan, Canada, Social Service
Joginder Singh Nijjar, Croatia, Art and Culture/Education
Pro. Ramji Prasad, Denmark, Information Technology
Dr. Kannan Ambalam, Ethiopia, Social Service
Dr. Amal Kumar Mukhopadhyay, Germany, Social Service/Medical
Dr. Mohammed Irfan Ali, Guyana, Politics/Social Service
Reena Vinod Pushkarna, Israel, Business/Social Service
Dr. Maksuda Sarafi Shiotani, Japan, Education
Dr. Rajagopal, Mexico, Education
Amit Kailash Chandra Lath, Poland, Business/Social Service
Parmanand Sukhumal Daswani, Republic of the Congo, Social Service
Piyush Gupta, Singapore, Business
Mohanlal Hira, South Africa, Social Service
Sanjaykumar Shivbhai Patel, South Sudan, Business/Social Service
Shivakumar Nadesan, Sri Lanka, Social Service
Dr. Devanchandrabhoj Sharman, Suriname, Social Service
Dr. Archana Sharma, Switzerland, Science & Technology
Justice Frank Arthur Seeparsad, Trinidad and Tobago, Social Service/Education
Siddharth Balachandran, United Arab Emirates, Business/Social Service
Chandrakant Babubhai Patel, UK, Media
Dr. Darshan Singh Dhaliwal, America, Business/Social Service
Rajesh Subramaniam, America, Business
Ashok Kumar Tiwari, Uzbekistan, Business
04:11 PM, 10-Jan-2023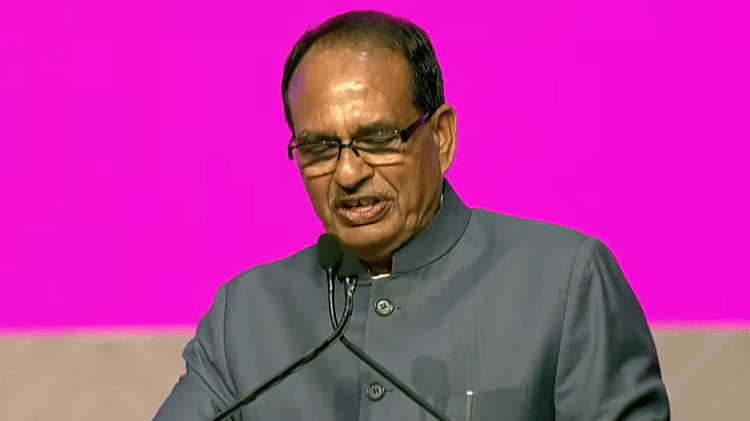 Chief Minister Shivraj Singh Chouhan.
– Photo: Amar Ujala
Shivraj said – My mind is full of emotions
Chief Minister Shivraj Singh Chouhan said that my heart is filled with emotions. Stayed with you for three days. Indore has become one form with you. In fact, Indore made preparations like they do for a daughter's marriage. Indore's welcome and hospitality like daughter's marriage. When there is a daughter's farewell, then there is pain in the mind. I went to the 'Padharo Mhare Ghar' programme. There it felt as if two families had not met, but two countries had joined. The three days were of joy, celebration and excitement. I didn't realize how the three days passed. Now the mind is getting heavy thinking that you will leave. Don't stay here The thing that is in this place is not anywhere else.
The Chief Minister said that Indore, Madhya Pradesh and India are being discussed everywhere since three days. This program was not only of the government. But the people of Indore have done this program by connecting whole heartedly. The Prime Minister was saying that Indore is the capital of cleanliness and taste. Indore is also the capital of public participation and public participation. Before leaving, we asked you to plant trees in the Global Garden. Each country's representative planted a tree. We tied you to the tree. QR codes are also being given to those who planted trees. If you scan, you will see your planted tree. That tree will keep reminding you of us. The Prime Minister has given the mantra of Vasudhaiva Kutumbakam. We are working on it. Farewell time has come. Farewell with the memories of Indore. Will miss you a lot when you leave. The convention center will be empty without you. Rajwada will feel deserted without you. Bullion, Rajwada deserted. Indore will feel deserted without you. Keeping the stars safe in the eyes, it will be night for a long distance. You are also a traveler, we are also travelers, we will meet again at some point. Didn't leave any stone unturned. But Prime Minister Narendra Modi's popularity is such that the hall has become small. I apologize with folded hands. Keep our love in your heart and remember us.
04:00 PM, 10-Jan-2023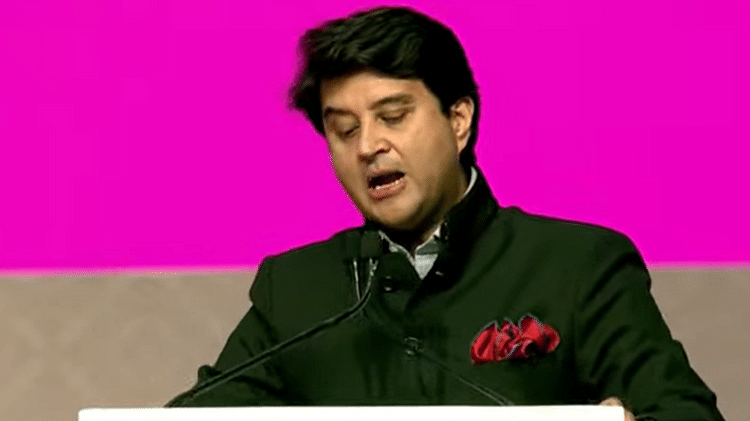 Jyotiraditya Scindia addressing.
– Photo: Amar Ujala
Scindia said – we could bring Indian students safely

The concluding program of the Pravasi Bharatiya Sammelan began in the presence of President Draupadi Murmu. During this, Foreign Minister S Jaishankar gave a welcome speech. After this, Civil Aviation Minister Jyotiraditya Scindia said that the dominance of Indians is in the whole world today. Be it the Prime Minister of England, Rishi Sunak or Satya Nadella, the dominance of Indians is being established everywhere. Overseas Indians are enhancing the identity of our country. I say that Indians are not just 135 crores, but 138 crores, of whom three crores are overseas Indians. Overseas Indians live in the heart of Prime Minister Narendra Modi. This I want to assure. It is their effort that we can bring the Indian students trapped in Ukraine safely to India. The NRIs played an important role in this work. The world cannot progress without India, this idea has been established all over the world.
03:40 PM, 10-Jan-2023
President to honor 27 expatriates at Pravasi Bharatiya Sammelan

President Draupadi Murmu will conclude the Pravasi Bharatiya Sammelan shortly. During this, she will honor 27 overseas Indians. Those to be honored include-
Pro. Jagdish Chennupati, Australia, Science and Technology/Education
Pro. Sanjeev Mehta, Bhutan, Education
Pro. Dilip Londo, Brazil, Arts & Culture/Education
Dr. Alexander Malaikel John, Brunei Darussalam Medicine
Dr. Vaikuntham Iyer Lakshmanan, Canada, Social Service
Joginder Singh Nijjar, Croatia, Art and Culture/Education
Pro. Ramji Prasad, Denmark, Information Technology
Dr. Kannan Ambalam, Ethiopia, Social Service
Dr. Amal Kumar Mukhopadhyay, Germany, Social Service/Medical
Dr. Mohammed Irfan Ali, Guyana, Politics/Social Service
Reena Vinod Pushkarna, Israel, Business/Social Service
Dr. Maksuda Sarafi Shiotani, Japan, Education
Dr. Rajagopal, Mexico, Education
Amit Kailash Chandra Lath, Poland, Business/Social Service
Parmanand Sukhumal Daswani, Republic of the Congo, Social Service
Piyush Gupta, Singapore, Business
Mohanlal Hira, South Africa, Social Service
Sanjaykumar Shivbhai Patel, South Sudan, Business/Social Service
Shivakumar Nadesan, Sri Lanka, Social Service
Dr. Devanchandrabhoj Sharman, Suriname, Social Service
Dr. Archana Sharma, Switzerland, Science & Technology
Justice Frank Arthur Seeparsad, Trinidad and Tobago, Social Service/Education
Siddharth Balachandran, United Arab Emirates, Business/Social Service
Chandrakant Babubhai Patel, UK, Media
Dr. Darshan Singh Dhaliwal, America, Business/Social Service
Rajesh Subramaniam, America, Business
Ashok Kumar Tiwari, Uzbekistan, Business
01:53 PM, 10-Jan-2023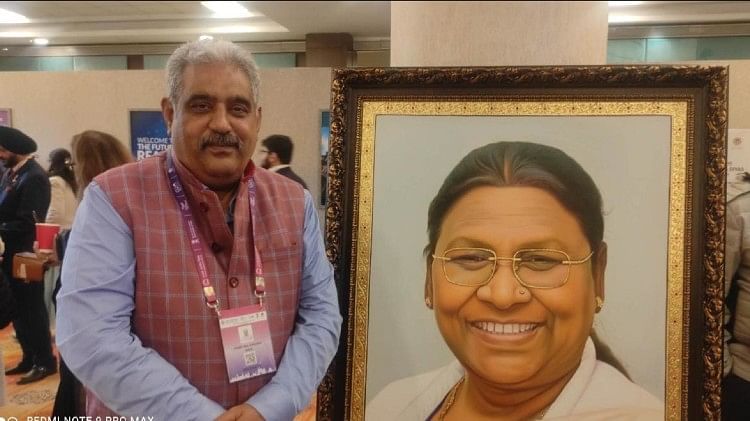 Chand Kumrawat with his own painting
– Photo: Amar Ujala
Painting made in gold color given to the President

Chandmal Kumrawat of Jaipur presented a painting of President Draupadi Murmu on his arrival in Indore. Chand has so far given such paintings to eight presidents. He says that apart from oil color, golden color and work have also been used in this painting.
The frames and ornaments of the President's spectacles were made by preparing the color of seven grams of gold. Chand got this painting made from Jaipur and got it framed in carved wood in Indore. Chand Kumrawat presented this painting to the President during his visit to Indore. Many guests also got their photographs clicked along with the creations made by them.
01:35 PM, 10-Jan-2023
Finance Minister addressed

Union Minister Nirmala Sitharaman addressed the second session of the Pravasi Bharatiya Sammelan. He said that India is the most powerful engine of global growth. Like last year, this year also our economy will grow fastest, investors who want to invest in China can see India as a big platform. Can see India as China plus one country. This is being celebrated as Year of Millets. We are building a healthy India with Ragi, Rice, Bajra. India is moving forward on the theme of Vasudhaiva Kutumbakam. Take part in the Amritkal of Amrit Mahotsav.
12:20 PM, 10-Jan-2023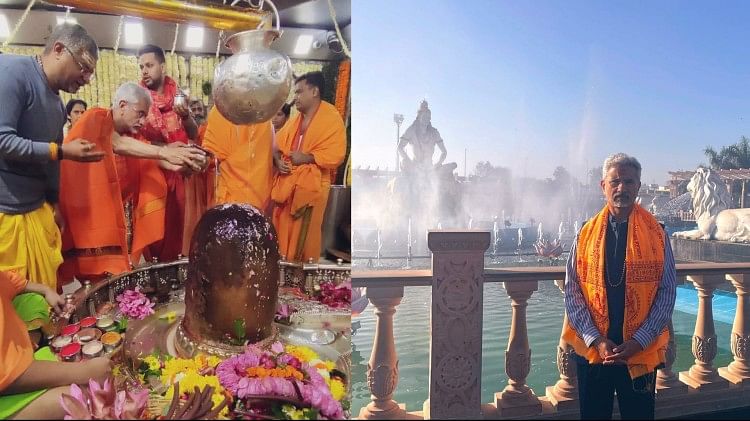 Foreign Minister arrived to visit Baba Mahakal
– Photo: Amar Ujala
Foreign Minister arrived to visit Baba Mahakal

External Affairs Minister S Jaishankar Prasad, who came to attend the Pravasi Bhartiya Divas conference in Indore, reached Ujjain on Tuesday and took blessings of Baba Mahakal after visiting and worshiping him. Along with this, he also visited Mahakal Lok. After visiting Baba Mahakal in Ujjain, External Affairs Minister S Jaishankar Prasad said that he had the good fortune to have the darshan of Shri Mahakal. Have wished for the progress of the nation and the welfare of the world.
12:13 PM, 10-Jan-2023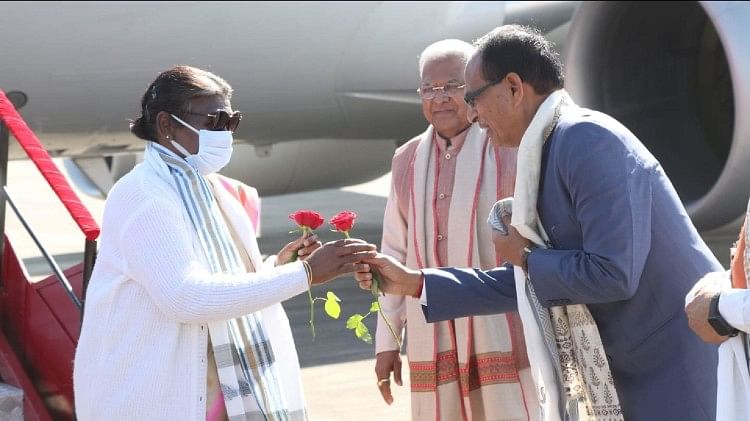 President reached Indore
– Photo: Social Media
                                                 
                

                                                 
                इंदौर पहुंची राष्ट्रपति मुर्मू
                                                 
                

                                                 
                राष्ट्रपति द्रौपदी मुर्मू 17वें प्रवासी भारतीय दिवस सम्मेलन के समापन सत्र में शामिल होने के लिए इंदौर पहुंच चुकी हैं। राज्यपाल मंगूभाई पटेल और मुख्यमंत्री शिवराज सिंह चौहान ने उनका स्वागत किया।
                                                 
                

                                                 
                
                                                 
                

                                                 
                राष्ट्रपति दोपहर 2:30 बजे सूरीनाम गणराज्य के राष्ट्रपति चन्द्रिका प्रसाद संतोखी और दोपहर 2:55 बजे गुयाना गणराज्य के राष्ट्रपति डॉ. मोहम्मद इरफान अली से मिलेंगी।
                                                 
                

                                                 
                
11:59 AM, 10-Jan-2023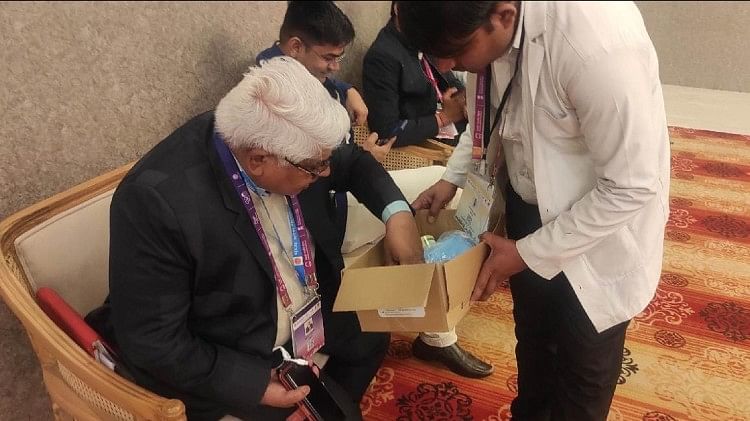 Doctors are sitting with medicines, so that in case of ill health, treatment can be done at the venue of the conference itself.
– Photo: Amar Ujala
Condition of an NRI critical, admitted in ICU

The health of a Pravasi Bharti, who had come to participate in the Pravasi Bharatiya Sammelan, deteriorated. He has been admitted to the ICU in a private hospital. Due to the problem of hypertension and blood pressure, he was having trouble breathing. His medical examination was also done on Tuesday. CMHO BL Saitya told that 71-year-old Jyanudutt has come from Mauritius. His health had deteriorated in the hotel. He was admitted to Aurobindo Hospital. Now his condition is better than before.
Corona investigation to 282 people

Corona investigation of the guests attending the conference is also being done. On Monday, 283 people were screened. Not a single report came positive.
10:45 AM, 10-Jan-2023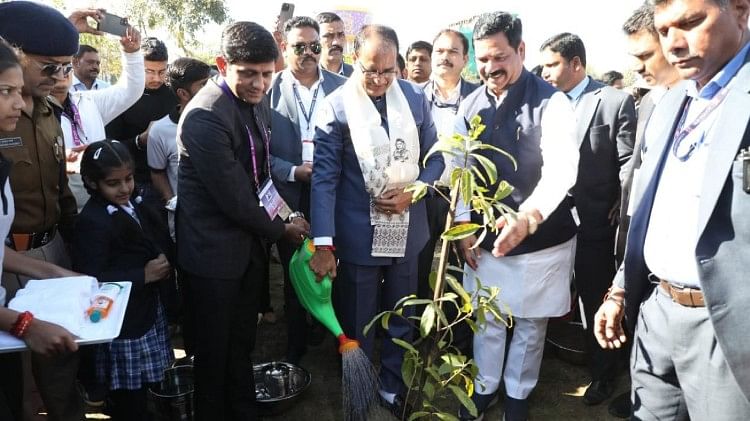 CM planted saplings with NRIs
– Photo: Social Media
CM planted saplings with the guests

Chief Minister Shivraj Singh Chouhan along with NRIs and guests planted saplings at the Namo Global Garden in Indore. A QR code has been placed on each plant planted in the 'NAMO Global Garden'. By scanning this code, NRIs will be able to know about the status of their plants.
10:43 AM, 10-Jan-2023
Dharmendra Pradhan addressed

Union Minister for Skill Development and Entrepreneur Dharmendra Pradhan addressed the Indian diaspora at the Pravasi Bharatiya Sammelan on Tuesday. Whenever we talk about becoming a world leader, there is no talk of becoming a world leader through military power. In this, we talk about intellectual power. From this thinking comes innovation. You all must be feeling that in some parts of the world the products of some producers are not up to the mark. In such a situation, our role becomes important in this 21st century. The Prime Minister has implemented the new education policy. With this, India will become a global manpower making country.
08:52 AM, 10-Jan-2023
Pravasi Bharatiya Divas Live: President honored 27 NRIs, Shivraj said – mind is emotional
President Draupadi Murmu will attend the 17th Pravasi Bharatiya Divas convention organized in Indore on Tuesday (January 10). The President will confer the Pravasi Bharatiya Samman to 57 Indian diaspora. President of Guyana Mohammed Irfan Ali and President of Suriname Chandrika Prasad Santokhi will also be given this honour. In addition to the existing Pravasi Bharatiya Sammelan, the Pravasi Bharatiya Sammelan, which was held virtually last year, will also be felicitated.
27 NRI guests selected this year

For 2021, 30 overseas Indians and organizations were selected, while this year 27 overseas Indian guests have been selected. Last year, the Pravasi Bharatiya Sammelan was held virtually, due to which the overseas guests were honored in a virtual manner. Because of this, he has also been invited to be honored in this event.
On the sidelines of the ceremony, President of Suriname Chandrika Prasad Santokhi and President of Guyana Dr. Mohammed Irfan Ali will call on President Draupadi Murmu. Let us tell you that Prime Minister Narendra Modi had formally inaugurated the Pravasi Bharatiya Divas convention in Indore on Monday. In his address on the occasion, the Prime Minister had said that the lives, struggles and achievements of the diaspora in different countries have to be facilitated. PM Modi called upon the diaspora to strengthen India's unique worldview and its important role in the global order. He said that today the world is looking towards India with hope and faith, therefore Indian diaspora can play an important role as the brand ambassador of our country.