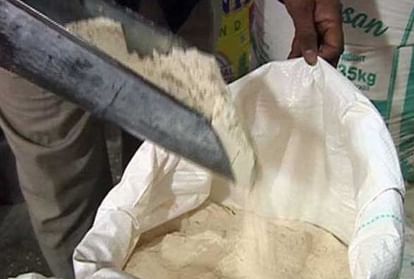 Flour became costlier in Punjab
Expansion
The work in the flour mills of Punjab has almost come to a standstill due to non-issuance of wheat tenders by the Food Corporation of India (FCI) for almost five months. It is being told that the Open Market Sale Scheme (OMSS) has not been revised by the Central Government, due to which the online tenders of FCI have been suspended. Due to this, the products made from these including flour and maida have become costlier in the market.
The price of flour has reached Rs 3,400 to Rs 3,700 per kg in the market. If this situation continues, there may be shortage of flour in the market, due to which there is a possibility of increase in black marketing. However, the Food Supplies Corporation claims that FCI has sufficient stock of wheat. The price of flour and maida has increased by Rs 15 to 20 per ten kg in the retail market, while bread of different brands has also become costlier by Rs 5.
A month before the arrival of wheat from other states, there has been a shortage of wheat in Punjab. Due to this, the prices of flour are constantly breaking records. It may be noted that wheat is supplied to the states by FCI, but this time it has been delayed due to non-floating of tenders. According to information, the price of flour has increased by more than Rs 300 per quintal in two days. While the price of flour was ruling around Rs 3,400 per quintal a week ago, now its price has been recorded in the range of Rs 3,700 to 3,800 per quintal. Punjab's flour mill operators Sunil Kumar, Harveer Singh and Jaswinder Singh told that the work in the mill has almost come to a standstill due to non-availability of sufficient stock of wheat for about five months. This has started affecting inflation.
Punjab has 116.32 LMT food grains: Ghanshyam

FCI Punjab's Chandigarh-based Deputy Director General (General) CH Ghanshyam said that 116.32 metric lakh tonnes (mlt) food grains are available in the godowns of the corporation in Punjab. Apart from wheat, rice is also included in this. There is no shortage of food grains for PDC. The policy has not been released by the Centre. As soon as it is released, online tenders will be opened under the Open Market Sale Scheme.

Export of flour is also a big reason in Russia-Ukraine war

According to sources, during the ongoing Russia-Ukraine war, about 4.5 million tonnes of wheat was exported from the country. This is also believed to be a major reason for the shortage of wheat in the country. However, the state's flour mills expect wheat arrivals from Gujarat, Madhya Pradesh and Rajasthan to start from February 28 as the arrival of wheat in those states starts in February due to scorching heat, while Punjab's wheat starts in April. Will start coming in.

inset
Here the price of flour (per 10 kg) has increased by Rs.

City Flour Earlier (Branded) Now (Average)

Ludhiana 320 350

Chandigarh 300 350

Panchkula 340 360

Mohali 340 390