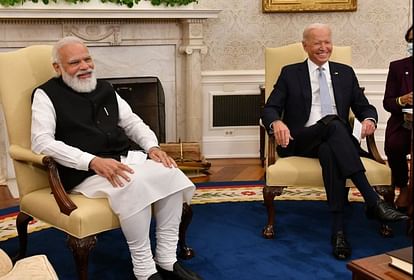 Prime Minister Narendra Modi and US President Joe Biden.
Photo: Twitter/MEA
Expansion
US President Joe Biden may host a dinner for Prime Minister Narendra Modi in the middle of this year. It was revealed only last month that the Biden administration has also sent an invitation to PM Modi for this. Officials have said that the White House wants to host the Indian Prime Minister in June itself, although its timing may move back and forth.
Sending an invitation to PM Modi from America shows the deepening relationship between the two countries. In the last few years, America has taken many important policy decisions keeping India at the center. These include steps like its Indo-Pacific policy and playing an important role in the Quad.
Significantly, before PM Modi, Joe Biden has invited only two leaders to come to the White House for an official dinner. These include French President Emmanuel Macron and South Korean President Yoon Suk Yeol. Now PM Modi will be the third leader to whom Biden will give dinner at the White House.
PM Modi's program will be busy globally in 2023
It is reported that the US President will meet PM Modi in Australia even before the meeting at the White House, where the four countries of the Quad will gather for discussions in May. PM Modi will have a busy schedule in September as well. India is hosting the G-20 this year. The G-20 summit is also to be held in September, which will be attended by US President Joe Biden along with global leaders. After this, Prime Minister Modi's campaign for the assembly elections to be held at the end of the year will begin. In such a situation, PM Modi will have domestic engagements.