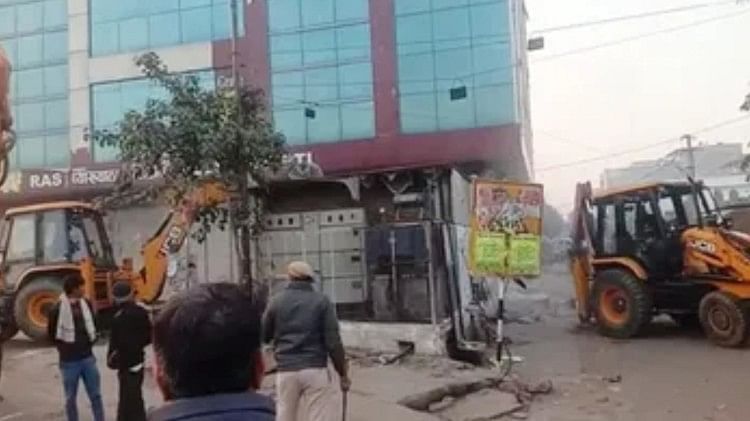 Bulldozer run on Suresh Dhaka's coaching
– Photo: Social Media
Expansion
The JDA enforcement team reached Gurjar Ki Thadi, Gopalpura Bypass Main Road in Zone-05 area of ​​Jaipur from 7:30 am on Monday. Where the yellow paw of the bulldozer was run on the building of 'Adhigam Coaching Institute', run by the main accused in the teacher recruitment exam paper leak case.
The illegal commercial building was demolished by adopting the legal process and taking permission at the authorized level, when the notices were not answered even within the stipulated time period. Action was taken to demolish the building with the help of 1 Poklen machine, 3 JCB machines, 12 Lokhanda machines, 3 drills, 2 cutters and laborers. Chief Controller Enforcement of GDA, all sub-controllers, Deputy Commissioner of Zone-5, all enforcement officers, enforcement team, engineering team, Mansarovar ACP and SHO from Jaipur Police Commissionerate, 50 police personnel on the spot to maintain peace and order Join the action for
Violation of building bylaws, illegal commercial construction on residential land and road encroachment
Illegal commercial construction made on a large scale by serious violation of building bylaws on zero setback in this building, illegal encroachment on road boundary, by completing the legal process as per the rules and taking permission at the authorized level, enforcement on the vigilance of the technical team. The team demolished the building of Adhigam Coaching Institute with JCB-Poklen machines, Lokhanda and drill machines. The illegal building was demolished with the help of a large number of laborers.
The main accused of teacher recruitment exam paper leak were running coaching in the building
The JDA squad, led by the Chief Controller of Enforcement and Additional Commissioner PRN, on January 6, 2023, on receipt of information about the main accused in the Coaching Institute "Adhyagam" teacher recruitment exam paper leak case, the revenue and technical teams of the zone took the opportunity After inspection and testing, notices were issued under sections 32 and 72 of JDA to the concerned building owner Anil Agarwal and 4 coaching operators including Bhupendra Saran, Suresh Dhaka, Dharmendra Chaudhary. He was given time till 5 pm on January 8, 2023, to present his reply, to remove illegal construction and encroachments.

The special thing is that notice was given on Friday and time was given to reply till Sunday. By giving legal notice again on Sunday morning, vacating their belongings from the building and removing illegal construction and encroachments were also banned again.