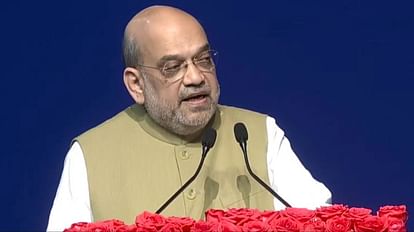 Union Home Minister Amit Shah
Photo: Twitter/ Amit Shah
Expansion
Union Home Minister Amit Shah on Friday broke his silence on the opposition's demand to set up a Joint Parliamentary Committee (JPC) to probe the Adani-Hindenburg dispute. Speaking at an event, Shah said that the Supreme Court has already taken cognizance of the matter and constituted an inquiry committee.
Shares of Adani Group declined after US-based short seller Hindenburg Research made several allegations against the Gautam Adani-led group, including fraudulent transactions and manipulation of share price, though the group denied the allegations against it. Was rejected. In this matter, Adani Group has said that it follows all the laws and regulatory requirements.
The Union Minister said, 'Our government has no confusion in this matter. We say that the Supreme Court has constituted a committee to investigate this and people should trust the judicial process.
Shah said that if anyone has evidence, it should be presented before the Supreme Court committee. The Union Minister also assured that no one should be spared if something wrong has happened and everyone should trust the judicial process.
"Nevertheless, if you feel that the report is not correct, then someone should take up the matter or protest against it," he added. Both SEBI and the Supreme Court will conduct parallel investigations and SEBI has already informed the Supreme Court that it is probing the matter. Shah said the current deadlock in Parliament can be resolved if the opposition comes for talks and if the opposition takes two steps forward, the government will also take "two steps ahead".
Shah also said that some issues are above politics and even former Prime Minister Indira Gandhi refused to discuss domestic politics on foreign soil.
He said, "Let both the parties sit before the Speaker and discuss. They should come two steps forward and we will take two steps forward. After this the Parliament will start functioning. But you just hold press conferences and do nothing, it cannot be like this.
The Home Minister said that the parliamentary system cannot be run only by the ruling party or only by the opposition as both have to talk to each other.
Shah said the BJP-led NDA would again form the government in 2024 and Narendra Modi would become the prime minister for the third time in a row. Shah also said that ever since the Modi government came to power, the issues related to the three hotspots – J&K, Northeast and Naxals – have been resolved to a large extent.
The Home Minister said that after the surgical strike against terrorists inside Pakistan, no foreign power dared to interfere in the internal affairs of the country.
Asked how many seats the NDA would get in the 2024 general elections, the minister said it would be more than in 2019. In the 2019 general elections, BJP got 303 seats and NDA won more than 350 seats out of total 543 Lok Sabha constituencies.