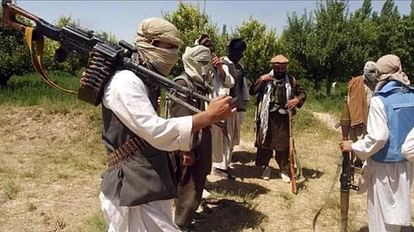 Tehreek-e-Taliban Pakistan (indicative photo)
– Photo: Social Media
Expansion
Since the arrival of the Taliban government in Afghanistan, apart from women, steps are also being taken to snatch the freedom of the media. The condition of media institutions with journalists has gone from bad to worse. Due to this, more than half of the journalists of Afghan media have lost their jobs. Some were even forced to leave the country. TOLOnews has released the report citing Afghanistan National Journalists Union (ANJU). It has been told that 53 percent journalists have lost their jobs till now. At the same time, on the occasion of National Journalists' Day in Afghanistan, it was told that 50 percent media outlets have been closed for different reasons since the Taliban regime came.
'Media institutions facing financial difficulties'
ANJU member Mansoor Lufti told – Many journalists left the country. The media community is facing many problems. Apart from financial difficulties, he has to face a lot of crisis due to restrictions on the activities of the media. In addition, the suspension or closure of laws protecting the media community is a major challenge."
According to TOLOnews, several journalists have expressed their sympathies on the issue. He asked the Islamic Emirate to face the challenges especially in the field of information.
Journalist Rakib Fayaz said- Journalist's Day is celebrated when the lack of information is considered a difficult issue. This community is still dealing with major issues. Another journalist Mustafa Shahryar said – We have talked to the government officials to pay serious attention to this issue and protect the journalists.
Cases have been registered against journalists in different cases.
TOLOnews reported- "The Taliban's Ministry of Information and Culture said they are committed to upholding the rights of journalists and efforts are being made to increase the facilities available to them." According to the United Nation's 2022 report, there are about 200 cases registered against journalists in Afghanistan. These include cases of arbitrary arrest, ill-treatment, harassment, intimidation and intimidation.
Khama Press reports that several journalists have been arrested, harassed and threatened with death for reporting on sensitive issues. Many radio, and TV stations and news agencies have closed their doors, with over 6,000 journalists losing their jobs. Female Afghan journalists suffer from the twin pressures of being a journalist and a woman. According to Khama Press, the latest restrictions by the Taliban banning women from attending university, working with government or non-governmental aid organizations, and appearing in public places have hit female journalists hard.
Sources of information reaching journalists are also being closed
TOLO News recently reported that the Taliban crackdown on journalists and media personnel in Afghanistan continues. Several journalists in Paktia province criticized the limited access to information on Friday, claiming it has negatively affected their operations as their basic rights to work are being challenged. They allege that they are not getting timely information from the authorities. Journalist Abdul Rehman Wayand said, "It is the responsibility of the authorities and concerned organizations to provide accurate and timely information to the media."
Journalists urged the authorities to fulfill their duty of providing access to information. According to TOLOnews, several journalists in the Afghan province also complained that their issues were no longer being addressed in the nation as some departments refused to provide any information to the media on certain matters.