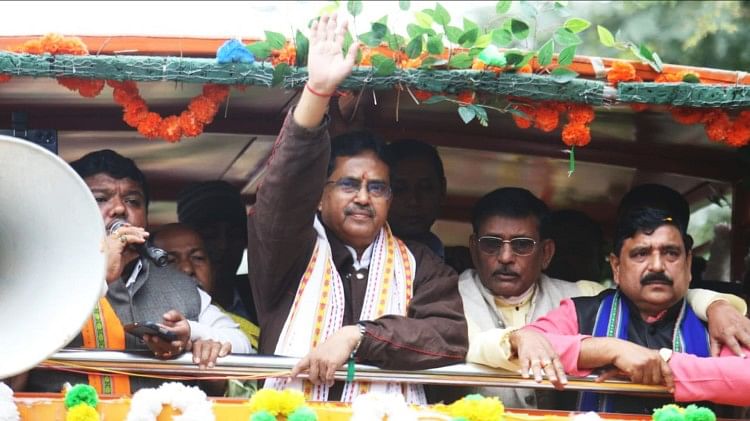 Tripura Chief Minister Saha at BJP's 'Jan Vishwas Rally'
– Photo: Twitter / Manik Saha
Expansion
Chief Minister Manik Saha on Sunday appealed to the leaders of the Left parties to join the BJP. Saha said that his party is like the river Ganges and taking a dip in it would absolve him of all sins.
He was addressing a Jan Vishwas rally at Kakraban in South Tripura. During this, he said, BJP is confident of victory in the assembly elections to be held this year. "I appeal to people who still believe in the ideology of Stalin and Lenin, join the BJP as it is like the Ganges," he said. All your sins will be destroyed if you take a holy bath in the Ganges.
The senior BJP leader further said, the coaches in the train are still empty. Sit in an empty compartment. Prime Minister Narendra Modi will take all of us to the destination where we should have reached. Targeting the opposition CPI(M), he alleged that the communists suppressed the democratic rights of the people. Ruled Tripura for many years.
The Chief Minister said, there was no democracy during the Communist rule. They believe in violence and terror tactics. During the Left rule in South Tripura district, 69 opposition leaders were allegedly killed. Kakraban was no exception, where many political killings took place.

Exuding confidence of BJP's victory in the upcoming assembly elections, he said, the Jan Vishwas rally which was flagged off by Union Home Minister Amit Shah on January 5 would attract opposition parties.
The idea of ​​'preshtha pramukh' (page in-charge) was successfully executed by Shah in Tripura during the 2018 assembly elections, he said. It demolished the communist fort after 25 years. This time the Jan Vishwas Rally will also do the same with the opposition. After selection, they will be visible only with a microscope.