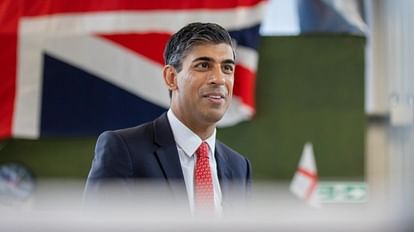 British Prime Minister Rishi Sunak.
Photo: Facebook/Rishi Sunak
Expansion
Britain's Prime Minister's Office 'Downing Street' said on Thursday that Prime Minister Rishi Sunak is aware of India's security concerns following violent clashes at the Indian Mission in London and security arrangements are being reviewed.
UK Foreign Secretary James Cleverley announced a review of security arrangements in a statement last week after pro-Khalistan flag-waving protesters at India House attempted to remove the tricolor and damaged windows. The UK Foreign Office has since been conducting a review of security arrangements at the diplomatic mission with the Metropolitan Police.
"Discussions are being held by the Foreign Office with our police in the UK and our Indian counterparts," Sunak's spokesman told a Downing Street press conference. The Prime Minister has not been directly involved in this, but he is aware of these discussions.
Asked whether the issue is likely to affect the India-UK Free Trade Agreement (FTA) talks, which are now in their eighth round of talks. The spokesperson said the two issues are separate and trade talks with India are on. Both sides wish to see better relations between our two countries. On security arrangements, we expressed our concern about the scenes witnessed outside the High Commission and the same is being reviewed, he said.
This statement has come at a time when there is a possibility of protest outside 'India House' in London on Saturday as well. Along with this, protesters have also planned to protest outside the Indian Consulate in Birmingham on Sunday.
Following the violent protests of 19 March, there has been a presence of the Metropolitan Police around the Indian High Commission in London. Protesters are now confined behind barricades across the street from the mission compound. Protesters threw colored flares and water bottles towards the mission during a planned demonstration last Wednesday. He then alleged on social media that the items were thrown by the Indian mission, a charge denied by India House.
India lodged a strong protest with the UK government and the issue was also raised in the House of Commons. Following this UK Foreign Secretary James Cleverly said that we condemn the unacceptable acts of violence and he assured to conduct a security review. Meanwhile, government ministers are also in talks with Indian High Commissioner to the UK Vikram Doraiswami to reiterate plans to review security measures at India House.