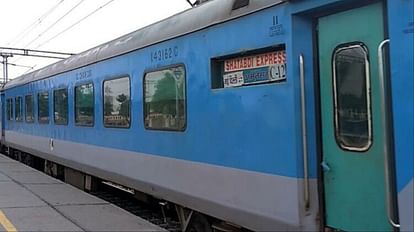 Amritsar – New Delhi Shatabdi
– Photo: Samvad News Agency
Expansion
Khalistan supporters in Punjab's Ludhiana tried to derail the Shatabdi Express (12014) from Amritsar to New Delhi on Saturday morning. The miscreants opened 10 to 15 pendrol clips of the railway track on bridge number 102 of the river near Beas. A Khalistani flag was hoisted nearby. Taking immediate action, the engineering department team of the railways rectified the track. After that Shatabdi Express was flagged off from Amritsar station. GRP sources said that the call was received from Canada number. The investigation is on.
The GRP's control room call came at around 4.90 am on Saturday morning. Describing himself as an accomplice of Sikh for Justice terrorist Gurpatwant Singh Pannu, he said that the pendrol clips of the tracks have been opened in the Amritsar-Beas section. Shatabdi Express is going to pass through this track.
Time is short. Stop the train if you can. The threat call sent security agencies of the state including the GRP, RPF and the Intelligence Department into a tizzy. At the time the phone call came, the Delhi-bound Shatabdi Express (12014) was standing ready to leave at Amritsar station.
As a precaution, the train was stopped at Amritsar station itself. After this, GRP, RPF and Engineering Department started checking the track in Amritsar-Beas section. A search operation was carried out on the railway track from Amritsar to Jalandhar, Ludhiana, Rajpura and Ambala. During this, 10 to 15 pendrol clips were found open on the river bridge number 102 near kilometer number 490/11 near Beas near the track. The railway team immediately took action and fixed the track.
The train passed under tight security, the police stationed every two kilometers
Security on railway tracks and trains was beefed up across the state on Saturday following threat calls. Police personnel were deployed at sensitive places on the Amritsar-Delhi railway track. All high speed trains including Shatabdi Express were passed under strict police guard. Police force was deployed every 2 kilometers of the track. Police patrolling inside the trains and on the railway track continued till late evening.
There was an attempt to derail the train even four days back.
Just four days before Saturday's incident, there was an attempt to derail the Ludhiana-Firozpur Express (04463) on Wednesday night. That night mischievous elements had put stones on the track between Mullanpur to Chowkiman. When the train passed over the stones, it shook rapidly. Due to this the passengers and railway personnel got scared and the train was stopped.
The number from which the call was received is under investigation. Looking into this matter seriously. The investigation of the railway track is going on. In this, the help of the district police is also being taken. It is not possible to give more information than this. -Shashi Prabha Dwivedi DGP, GRP, Punjab