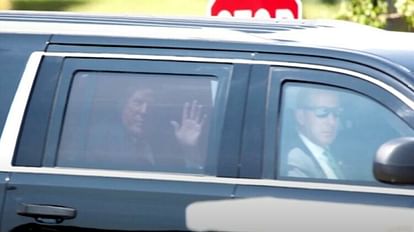 Former US President Donald Trump arrived in New York.
Photo: ANI
Expansion
In America, former President Donald Trump is going to surrender before the court on Tuesday. Republican and Democrat supporters are going to rally. The Manhattan police made elaborate security arrangements before Trump arrived in New York on Monday. Police has ordered 35,000 officers to be ready at all times. Trump reached New York late on Monday night.
New York police have cordoned off Trump Tower and barricaded the streets near Manhattan Court. Social media is being closely monitored. Trump, facing charges stemming from an investigation into money paid to a porn star ahead of the 2016 US presidential election, is the first former US president to face criminal charges. According to sources, former federal prosecutor Todd Blanche has been appointed to lead his defense in court.
After spending the night in Trump Tower, will reach the court in the morning
As soon as the former President reaches New York, he will go straight to Trump Tower and after spending the night here, will reach directly to the court on Tuesday. Trump's advisor said that there is no plan yet on whether Trump will address his supporters during this time.
Let us inform that Trump is a resident of New York, but he has not got much votes in his own hometown. He got only 23 percent votes from here in 2020, whereas in 2016 he could get only 18 percent votes.
The grand jury on Thursday voted an indictment against Trump for allegedly paying porn star Stormy Daniels. The indictment is under seal, it is not yet known what crimes Trump is accused of and how many criminal cases he has. According to local media reports, the former president has been accused in more than 30 cases.
Trump flatly denied the payment
Trump will be presented in court on Tuesday. The action is expected to be brief. The charges will be read out during the hearing, which is scheduled to last for about 10-15 minutes. He has vehemently denied the payments Trump made to Daniels, 44, before the 2016 presidential election. Trump posted a post on his Truth social platform. He said that the judge who assigned my witch hunt case, a case that has never been charged before, hates me.
impeached twice
The House of Representatives impeached Trump twice. He was acquitted by the Senate both times. Trump's lawyer, Jim Trusty, alleged that the case was politically motivated. We should never hire prosecutors who act on political promises to target people. I was a prosecutor for 27 years. We must be judicious when we begin, follow the rule of law to find out where the evidence leads. We have people declaring, if you elect me, I will convict Donald Trump.
The Trustee said that it appears to us that the indictment would have infirmities of law, which would be subjected to a very legitimate motion for early dismissal. He said that Trump is a big believer in freedom of expression and has strong opinions.