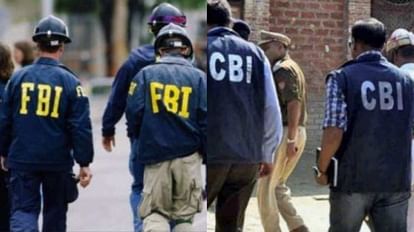 FBI and CBI
– Photo: Social Media
Expansion
An important meeting took place between the officials of India and America's top internal investigation agency CBI and FBI to deal with the growing cybercrime and technology-based crime. The meeting discussed continued collaboration for dynamic and evolving technology-based solutions. The Justice Department gave this information on Monday. According to the Justice Department, a meeting between FBI and CBI officials took place in New Delhi last week.
Deputy Assistant Attorney General Arun G. Rao, Consumer Protection Branch, Department of Justice Civil Division, along with colleagues from the Consumer Protection Branch and FBI met with CBI officials in New Delhi last week to deepen and expand efforts to combat cyber-enabled discussed on. These mainly discussed financial crimes and international call center frauds.
In this meeting, both the sides discussed the trend of such crimes since their last meeting in October 2021. Both sides stressed on a strong research to deal with it. These include successful efforts to secure testimony from American victims of call center fraud. Apart from this, the meeting also discussed how the alleged criminals as well as evidence were seized in India. Also how the assistance of US law enforcement was taken to arrest individuals allegedly involved in cyber-enabled financial crimes in India and global telemarketing fraud.