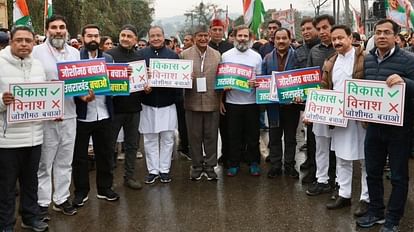 Rahul Gandhi giving the slogan of Save Joshimath
– Photo: Amar Ujala
Expansion
Senior Congress leader Rahul Gandhi will visit Uttarakhand to know the plight of Joshimath, which is facing the crisis of landslide. On the request of state Congress leaders, Rahul has agreed to visit Joshimath in the month of February. With this consent of Rahul, the politics on Joshimath has also heated up. BJP has termed it as double character of Congress. Also, it has been described as part of the negative strategy of the Congress. The special thing is that till now no big central BJP leader has visited the Joshimath landslide area except Minister of State for Defense Ajay Bhatt.
Joshimath: Demolition work of hotels continues amid rains, buttress of residential house collapses
On the other hand, during the Bharat Jodo Yatra in Jammu, Rahul Gandhi and state Congress leaders demonstrated on issues related to the Joshimath disaster. Interestingly, the same Congress stalwart who had invited Rahul to visit Joshimath had met Chief Minister Pushkar Singh Dhami a few days back. Many leaders including Congress President Karan Mahra, Leader of Opposition Yashpal Arya, former CM Harish Rawat, Pritam Singh were included in these.
He had given many important suggestions to Dhami to save the mythological, religious and commercial existence of Joshimath. Along with this, he had also promised to give full cooperation to the government in the interest of Joshimath and the affected. But now both the government and the BJP are uneasy about Rahul Gandhi's visit to Joshimath in February.
130th day of Bharat Jodo Yatra dedicated to Joshimath

State Congress leaders reached Jammu on Tuesday, where they participated in the Bharat Jodo Yatra. It was the 130th day of the Yatra. The party dedicated this day to the Joshimath disaster. According to State President Karan Mahara, during the visit the country's attention was drawn to the damage caused by landslides in Joshimath. Rahul Gandhi has decided to visit Uttarakhand in February and visit the Joshimath affected area to hold discussions with the affected.
Everyone has to save Joshimath together – Rahul Gandhi

Today's Bharat Jodo Yatra is dedicated to Joshimath. We all have to rise above party politics and save Joshimath. Being a Himalayan state, we also have to protect the environment. Along with this, we also have to pay attention to the interests of the people. The government should do rehabilitation and compensation soon so that the lives of the affected can move forward. Prepare a meaningful policy. Being a Himalayan state, Uttarakhand should not be left behind in the race for development in the country.