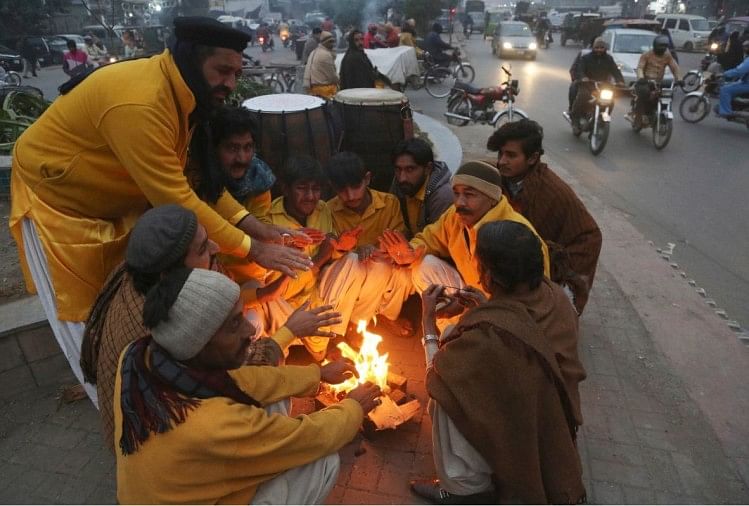 cold in delhi
Photo: PTI
Expansion
North, northwest and central India, including Delhi, are in the grip of severe cold due to the cold winds coming from the snow-capped Himalayas. The minimum temperature in Delhi's Ridge area dropped to 1.5 degrees Celsius on Saturday. However, Delhi recorded an average minimum temperature of 2.2 degrees Celsius, the lowest this season.
At the same time, the minimum temperature in UP, Rajasthan, Madhya Pradesh, Haryana was 2 degree Celsius or below. Minimum para was recorded two degrees in Kanpur and Churk of UP and 2.9 degrees in Bareilly. According to the Meteorological Department, the severe cold is expected to continue. In some areas of UP, Punjab, Haryana, Rajasthan, Jammu-Kashmir, Himachal Pradesh, Uttarakhand, for two-three days there will be dense, and at some places very dense fog. There is also a possibility of rain and snowfall in many areas of Jammu and Kashmir in the second week of January.
The air is also bad… Noida's AQI 433:

The Air Quality Index (AQI) in Delhi-NCR was 359 on Saturday, which is marginally better than Friday's 400. According to SAFAR, the most toxic air was in Noida and the AQI reached 433 there.
severe cold red alert

Meteorologist RK Jenamani said that a red alert has been issued for severe cold in different parts of North India during 24 to 48 hours. The Meteorological Department has advised people not to leave the house unnecessarily.

32 trains late for seven hours

Dense fog delayed 32 long-distance trains in north India, including Delhi, by one to seven hours. Among them were Prayagraj-New Delhi Humsafar Express, Kathgodam-Jaisalmer Ranikhet, MGR Chennai Central-New Delhi Tamil Nadu Express.
where how much mercury
UP: Minimum para 3 in Muzaffarnagar, 3.2 in Agra and Fatehpur and Etawah 3.8 degree Celsius.
Rajasthan: Zero in Churu, 0.6 in Pilani, 1.0 in Sikar, 1.2 in Karnauli, 1.7 degrees in Banasthali.
Haryana: 2-2 degrees in Hisar and Narnaul, Chhatarpur in Madhya Pradesh had a minimum temperature of 0.2 degrees on Friday night.
Kashmir: Minus 1.4 degree in Srinagar, -2.6 degree in Gulmarg.
34 domestic flights delayed

34 domestic flights were delayed from Indira Gandhi International Airport. 12 flights were late. There was a problem due to visibility being 25-50 meters. Passengers have been advised to check flight information before leaving home.