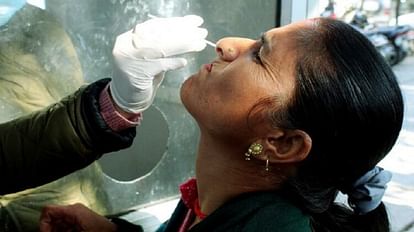 Corona investigation (indicative picture).
Photo: ANI
Expansion
Corona infection has started increasing again in the country. For the first time after eight months, more than six percent of the corona infection was recorded in a single day. More than 3,600 people have been found corona infected on the previous day, while the daily infection rate has been recorded at 6.12 percent.
The Union Health Ministry said on Monday that 59,512 samples were tested on Sunday, in which samples of 3,641 patients were found positive. However, meanwhile 1,800 patients were declared healthy, whose positive reports were received last week. According to the ministry, seven patients died of corona on the previous day. So far 5,30,892 people have lost their lives due to the infection. At the same time, the total number of infected in the country has increased to 4,41,75,135.
Number of active patients increased beyond 20,219
The ministry said that now the number of active corona patients in the country has increased to 20,219, which is now being seen after the increase in cases due to Omicron in January 2022. Apart from these, the ministry has also told that the weekly infection rate of corona in the country is 2.45%, which has been increasing continuously for the last four weeks.